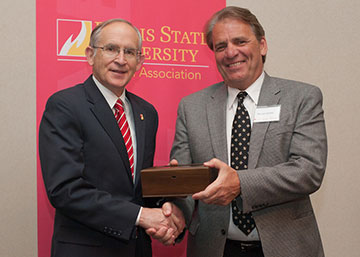 Michael Suman, founder and owner of Product and Market Development LLC in Caledonia, has been recognized with the Ferris State University Distinguished Alumnus Award.
Suman, who earned an associate's degree in Technical Drafting and Tool Design in 1970 and a Bachelor of Science in E-Commerce in 2004, received the award during the Ferris Alumni Association's annual spring reunion in May at the Holiday Inn Hotel and Conference Center in Big Rapids.
The association's tradition of recognizing outstanding graduates is an important one, said Jeremy Mishler, director of Alumni Relations.
"This recognition helps to highlight wonderful examples of lifetime career and community service success and fulfillment that our students and fellow graduates can aspire to and be proud of," Mishler said. "It also helps keep our leading alumni connected to the university's faculty and administration in a way that supports Ferris through their expertise, professional networks and personal philanthropy."
Suman has impressive credentials as both an independent businessman and as a corporate executive. As owner of Product and Market Development, he advises corporations how to accelerate growth. He has been awarded 51 patents, and has designed or co-designed and launched a number of successful products, including iLean flexible shelving and an e-display holder for electronic readers and tablet computers.
Suman also shares his business acumen in his book "Should Your Idea Become a Business?," published in 2011, and as host of a weekly radio show, "Innovation Talk," on WGVU. He is a partner and an adviser for Start Garden, a $15-million business incubator based in Grand Rapids.
In the corporate world, Suman has worked in engineering and development for the former Oldsmobile division of General Motors, as vice president of advance sales for Prince Corporation and as group vice president for Johnson Controls' Automotive Division.
Suman regularly shares his time and experience with Ferris students. He has judged innovation competitions on campus, spoken regularly to classes and served on the Business School Advisory Board. He also continues his several years of service on Ferris' E-Commerce and Marketing program advisory boards.
"I went to Ferris, because it had an education model that fit me," Suman said. "I was looking for somewhere that could give me a chance to earn my way to a career instead of only working toward a degree and expecting the world to come to me. The Ferris model allows a student to understand that their success is totally up to them. Ferris gives you the chance to earn it and apply it."
Suman lives in Caledonia with his wife, Mary Jo. They have two children.
The Ferris Alumni Association Board of Directors and the Distinguished Alumni Awards Committee established the Pacesetter Award in 1998. The award is designed to recognize more recently graduated alumni who, while pursuing their professional endeavors, are "setting the pace" for more recent Ferris alumni to be involved with their communities and the university.
The award is given to alumni who demonstrate leadership and service to their profession, community, service organizations and to the university. Ferris alumni who have graduated within the past 13 years are eligible for the award.