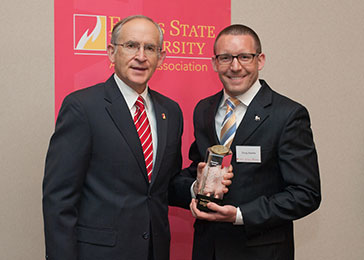 Doug Searles, a senior product manager at Whirlpool Corporation in Benton Harbor, has been recognized by his alma mater with the Ferris State University Pacesetter Award.
Searles, who graduated in 2003 with a Bachelor of Science in Applied Mathematics, received the award during the Alumni Association's annual spring reunion in May at the Holiday Inn Hotel and Conference Center in Big Rapids.
The association's tradition of recognizing outstanding graduates is an important one, said Jeremy Mishler, director of Alumni Relations.
"This recognition helps to highlight exceptional examples of the career and community service success and fulfillment already achieved by our recent graduates that our students and fellow graduates can aspire to and be proud of," Mishler said. "It also keeps many of the next generation of our leading alumni connected to the university's faculty and administration in a way that supports Ferris through their expertise, professional networks and personal philanthropy."
Searles said he was honored by the recognition.
"Ferris State is a special place to me, because it has provided me exceptional opportunities as a student, athlete and alumnus," said Searles, who played football for the Bulldogs. "Considering the success of so many Ferris State graduates, I am humbled by this award and am grateful to the Ferris Alumni Association for recognizing my early career accomplishments and community leadership."
The Pacesetter Award has proved each more fitting since he received it earlier this month. Searles recently was promoted to category marketing director for Whirlpool China, effective July 1, and he and his family will be moving to Shanghai.
In his work at Whirlpool, Searles has led the company's most profitable engineering and manufacturing team, improved year-over-year operating profit and market share in a time of industry decline, led a global operating platform project team and mentored colleagues in leadership development, communication, writing and analytical skills, and career management. Whirlpool has recognized his achievements by bestowing its Outstanding Performance Award upon him for three consecutive years, from 2008 to 2010, and its Excellent Achievement Stock Award in 2011, among others.
Searles, who earned a Master of Business Administration from Yale University in New Haven, Conn., in 2008, volunteers at The Chapel Evangelical Free Church in St. Joseph and coaches the St. Joseph American Youth Soccer Organization.
He has remained connected to Ferris by serving as an advisory board member since 2008 for the university's Honors Program, of which he was a student member.
The Ferris Alumni Association Board of Directors and the Distinguished Alumni Awards Committee established the Pacesetter Award in 1998. The award is designed to recognize more recently graduated alumni who, while pursuing their professional endeavors, are "setting the pace" for more recent Ferris alumni to be involved with their communities and the university.
The award is given to alumni who demonstrate leadership and service to their profession, community, service organizations and to the university. Ferris alumni who have graduated within the past 13 years are eligible for the award.