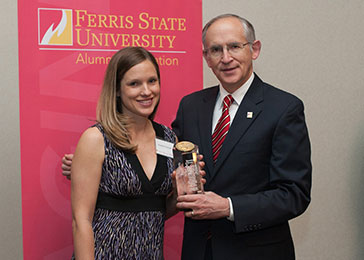 Heather Schalk, a clinical pharmacist with Sparrow Health System in Lansing, and an adjunct faculty member and preceptor at Ferris State University and the University of Michigan, has been honored with Ferris' Pacesetter Award.
Schalk, who earned a Doctorate of Pharmacy from the university's College of Pharmacy in 2006, received the award during the Ferris Alumni Association's annual spring reunion in May at the Holiday Inn Hotel and Conference Center in Big Rapids.
The association's tradition of recognizing outstanding graduates is an important one, said Jeremy Mishler, director of Alumni Relations.
"This recognition helps to highlight exceptional examples of the career and community service success and fulfillment already achieved by our recent graduates that our students and fellow graduates can aspire to and be proud of," Mishler said. "It also keeps many of the next generation of our leading alumni connected to the university's faculty and administration in a way that supports Ferris through their expertise, professional networks and personal philanthropy."
Schalk is actively involved in the profession of pharmacy, and in 2011 was awarded the Michigan Pharmacists Association's Distinguished New Pharmacist Practitioner Award. She serves as president of the Capital Area Pharmacists Association and is a member of the organization's Scholarship, Pharmacy Week, Poison Prevention Week and Advent House committees.
In addition to serving on several committees through her association with Sparrow Health System, Schalk also has been involved in a wide range of research and review projects for the health care system. She has given a significant number of presentations to professional organizations, with an emphasis on medication and pain management.
The Ferris Alumni Association Board of Directors and the Distinguished Alumni Awards Committee established the Pacesetter Award in 1998. The award is designed to recognize more recently graduated alumni who, while pursuing their professional endeavors, are "setting the pace" for more recent Ferris alumni to be involved with their communities and the university.
The award is given to alumni who demonstrate leadership and service to their profession, community, service organizations and to the university. Ferris alumni who have graduated within the past 13 years are eligible for the award.
For more information on the Alumni Association, visit https://ferris.edu/alumni/.