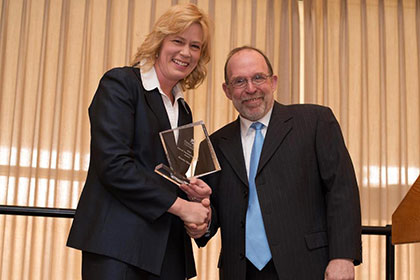 Dedication to student success, commitment to high-quality education and going above and beyond through work in the Faculty Center for Teaching and Learning are among the reasons Brooke Moore was named Ferris State University's 2013 recipient of the Adjunct Teaching Excellence Award as presented by the Academic Affairs division.
Moore, who has a Bachelor of Science in Business Administration-Management: Organizational Behavior from Miami University and a master's degree in Organizational Communication from Central Michigan University, has served as a full-time adjunct faculty member at Ferris since fall 2006. The opportunity to work in higher education is more than a job to more. It's a responsibility she covets.
"Teaching is much more than a job to me; it is a privilege," said Moore, a visiting assistant professor in Ferris' Department of Humanities since fall 2006, and the Faculty-in-Residence in FCTL since May 2011, who primarily teaches public speaking courses. "I take great care to teach information and skills that will prove useful and applicable to students both at Ferris and beyond."
Moore believes that a teacher's responsibility is to: provide an environment where students can learn, use a variety of methods in teaching in order to reach all types of learners, know the material and stay current with new developments in the field, hold students accountable for assignments given, while giving clear indication of what is expected, listen more than talk – to be open to learning from students, foster critical thinking and assess effectiveness regularly for continuous improvement.
Trinidy Williams, interim academic head in the Humanities Department, nominated Moore for the Adjunct Teaching Excellence Award.
"Brooke is one of the most engaging professors I have worked with," Williams said in her nomination. "She goes out of her way to make everyone around her, colleagues and students alike, to feel comfortable and warmly welcomed. She makes her students feel at ease and lets them know she values their ideas and concerns as well as respects them for who they are and where they are at in life."

Moore and other winners of the 2013 Academic Affairs Awards were recognized on Wednesday, April 24 at the Employee Service Awards Celebration event in the Rankin Student Center Dome Room.
To learn more about Academic Affairs at Ferris, visit:
https://ferris.edu/HTMLS/administration/academicaffairs/