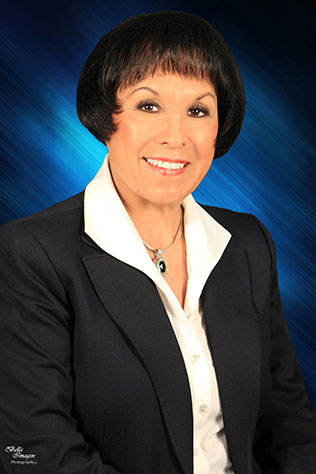 Lupe Ramos-Montigny calls herself "a servant of the people." Ferris State University officials say her passion and exemplary service in education and her selfless leadership in community service are reflective of the dedication and commitment worthy of an Honorary Doctorate of Public Service.
Ramos-Montigny, who will receive the honor during commencement ceremonies at 12:30 p.m. Saturday, May 11 in Big Rapids, learned the value of hard work and the importance of education at a young age. She is one of nine children, seven of whom traveled with her parents from Texas to Michigan for seasonal farm work.
After earning a bachelor's degree in Elementary Education and Spanish from Pan American University in Edinburg, Texas, Ramos-Montigny was recruited by the Michigan Migrant Educational Program to teach children of migrant farm workers.
"Literally, I started from the ground and my mission has continued taking me up," she said.
She later earned a master's degree in Bilingual Education from Grand Valley State University in Allendale. She worked for 36 years in public education, the majority dedicated to Grand Rapids Public Schools as a teacher and principal, before retiring in 2008.
"My mission has been to serve students together with their families," she said. "To be honored by Ferris with an Honorary Doctorate degree is very humbling and, at the same time, very significant. This honor is a jewel on my crown of public service."
She also has served the past 12 years as chairperson of the Committee to Honor Cesar E. Chavez, which works to advance the educational aspirations of Hispanic students pursuing a college education. The group also organizes an annual social justice march in Grand Rapids, which Ferris students, faculty and staff participate in.
"'The end of all education should surely be service to others,' is a famous quote by Chavez that speaks volumes," Ramos-Montigny said. "Public service changes the world."
Her appointment to the advisory board of Ferris' Center for Latino Studies is the result of her friendship and work with Tony Baker, the center's interim director who also serves on GRPS's board of education. The center is a Ferris initiative designed to enhance the university's connections with West Michigan Latino communities and to provide a home for Latino students and those interested in Latin American culture.
"Such a center is necessary and important to the institutional and educational progress of Ferris," she said.
Ramos-Montigny is a member of the Student Advancement Foundation Board to support GRPS students and a child advocate and vice-chair for the Kent County Citizens Friend of the Court Advisory Board.
She was the organizing force behind the Michigan Democratic Hispanic/Latino Caucus and served as chairperson for seven years. In 2002, she was the first Latina to be elected chair of the Kent County Democratic Party, and in 2003 she became the first to become second vice-chair for the Michigan Democratic Party. She currently serves on both organizations' executive committees.
In November, she was elected for an eight-year term to the State Board of Education.
Ramos-Montigny's service to education has been recognized with awards from the National Education Association and the Michigan Education Association. Her service to the Hispanic community also has resulted in numerous awards, including the Mayor George Heartwell Champion of Diversity Award.
She has two children and one granddaughter.
More than 1,700 of 1,850 Ferris students who are candidates for degrees will participate in spring commencement ceremonies on Friday, May 10 and Saturday, May 11 in Big Rapids. Graduates will be honored during five ceremonies over the two days in the Convocation Center (Wink Arena) in the Ewigleben Sports Complex on campus.
Also receiving honorary doctorates will be Richard L. Antonini, the retired CEO and chairman of Foremost Corporation of America and Dr. Joel Robertson, chairman and CEO of Robertson Health, both Ferris alumni.
Ferris' Kendall College of Art and Design will hold its commencement at 10:30 a.m. Saturday, May 11 at Fountain Street Church in Grand Rapids. Of the 249 students who will receive degrees, almost 190 are expected to participate in the ceremony that will include recognition of renowned illustrator Murray Tinkelman with a Doctor of Arts.
For complete information on commencement at Ferris, visit here: https://ferris.edu/commencement/