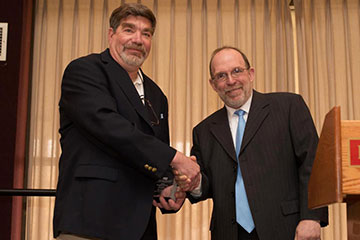 A strong commitment to teaching, student success and service are among the many reasons that Bradley McCormick, an associate professor in Ferris State University's College of Health Professions, was named the 2013 recipient of the Distinguished Service Award as presented by the Academic Affairs division.
McCormick's commitment to service, particularly during the last six years, was saluted by Paul Blake, associate provost for Academic Operations – the man who nominated him for the award. Within the College of Health Professions, McCormick has or continues to serve on a variety of committees, including Tenure, Assessment, the Core Curriculum Task Force, Radiation Safety, Faculty Affairs and College Safety. At the university level, he has or continues to serves on a list of committees that includes the Emergency Response Team, Radiation Safety Chemical Safety, New Faculty Orientation Week and more.
"Professor McCormick is deeply committed to teaching and to department/college and university service," Blake said. "His specific service at all of these levels over the last six years alone is exemplary."
As part of a general commitment to service is McCormick's focus on safety.
"Awards of this nature are often awarded for exemplary service to what are often isolated areas and/or populations, such as students, faculty and community," Blake said. "The unique feature of Professor McCormick's service is that his work in safety has really served students, faculty, and internal and external community equally. The university is indebted to the safety shield Professor McCormick has helped provide to all of these constituencies."
Blake noted that McCormick has chaired the newly-formed Hazardous Substance Awareness and Compliance Committee while he has also served as Ferris' Chemical Hygiene Officer. McCormick, Blake noted, spent "countless hours as a mentor for both the creation of the position of laboratory safety coordinator and the person hired for the position."
McCormick is a teacher at heart, and he is committed to high-quality education.
"Over the years my core value was to provide the students the 'best' education possible. There are several areas that need to be looked at in order to accomplish this," he said. "Parents trust us with the safety of their daughters and sons. By the nature of this campus, where ADD "WE" are located and the programs we offer, this is required and expected. We are also required to provide the highest quality education possible. Both of these requirements require a collaboration and participation by faculty, staff and students."
For McCormick, collaboration extends beyond the Ferris campus. Among other organizations, he serves on the Mid-Michigan Safety Council, the American Society of Safety Engineers and the Board of Certified Hazard Controls Managers.
McCormick and other winners of the 2013 Academic Affairs Awards were recognized on Wednesday, April 24 at the Employee Service Awards Celebration event in the Rankin Student Center Dome Room.
"I believe the strength of Ferris comes from within, and we all have an obligation to contribute outside of teaching responsibility," McCormick said.
To learn more about Academic Affairs at Ferris, visit:
https://ferris.edu/HTMLS/administration/academicaffairs/