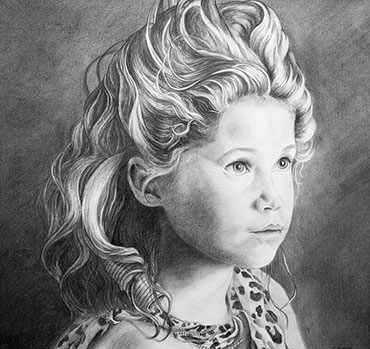 Jennifer Jones, of Middleville, has been honored with the 2013 Excellence Award Winner for the Drawing program at Ferris State University's Kendall College of Art and Design.
Kendall presents an Excellence Award to one graduating senior in each program of study. The KCAD faculty chooses each award winner based on their outstanding accomplishments in their area.
"Needless to say, the caliber of Jones' work and professional development speaks for itself, and her potential in both arenas is absolutely limitless," says Gypsy Schindler, an assistant professor in the Drawing program.
For almost a decade, Jones has pursued studies at KCAD. During this time she also worked for several custom automotive paint shops and operated her own company, Jennifer Jaze Custom Paint, LLC.
Through her study abroad opportunities in both Italy and the Netherlands, Jones was able to gain a stronger worldview. Prior to graduation, she began to teach as part of KCAD's Youth and Adults Continuing Studies program as well as for the Nancy K. Poppen Fund in conjunction with Muskegon Public Schools.
Jones sells her work at Gallery Uptown in Grand Haven and is working on several portrait commissions throughout the U.S.
Jones' body of work courageously dives into her personal history and combines it with extensive theoretical and art historical research, creating complex imagery and compelling conversation within her content.
"Education is the only thing in life that can't be taken away," Jones said. "Today, thanks to my life experience, my goal is right-sized. I am able to pass on the gift that was so freely given to me. Today, I dream of becoming an accomplished professor, who creates work that speaks, and to impact the lives of others every day."

The complete list of this year's Excellence Award winners is as follows:
Art Education-

Katelynn S. Funk
Art History-Anna C. Vanderjagt
Digital Media-Alyn Tran
Drawing-Jennifer Jones
Furniture Design-Jacob B. Blok
Graphic Design-Katherine L. Folkert
Industrial Design-Sarah Darnell
Illustration-Alyssa A. Parsons
Interior Design-Sharon Schlueter
Metals Jewelry Design-Stephanie R. McCarthy
Painting-Sandra R. Hansen
Photography-Robert A. Coombs
Printmaking-Leah E. Robbins


"The Excellence Award winners represent the epitome of KCAD student achievement," said Kendall President David Rosen. "They show a mastery shared by all our students, but taken by these few to a rare level. It is a privilege to be in a community of young artists and designers like them, who so clearly have skills to shape the future of their chosen fields."
The award winners will display their work in The Fed Galleries at the Historic Federal Building, 17 Pearl St. NW, through the end of July.
As a unique part of Ferris State University, Kendall College of Art and Design prepares students for leadership in the visual arts, design, art history, and art education; provides innovative, collaborative education that fosters intellectual growth and individual creativity; and promotes the ethical and civic responsibilities of artists and designers, locally and globally. For more information, please visit www.kcad.edu.