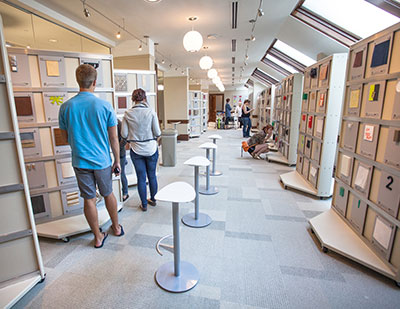 GRAND RAPIDS – Designers, architects, engineers and artists visited Ferris State University's Kendall College of Art and Design to get up close and personal with the building blocks for tomorrow's ideas. That was the goal of an April 24 open house to introduce the Material ConneXion library, now located on the fourth floor of Kendall's Historic Federal Building.
The open house was hosted by Design West Michigan, a Grand Rapids organization that explores and advocates for design as an economic building block for the region.
"Having Material ConneXion accessible to designers and firms in the region adds to West Michigan's ability to continue its strong design tradition," said John Berry, DWM's executive director.
Based in New York City, Material ConneXion is a leading global materials consultancy. Headed by a team of materials specialists and scientists, it offers a subscription-based membership to the world's largest collection of advanced, innovative and sustainable materials, along with consulting services to help members fulfill current needs and collaborate on future projects.
Creatives from across West Michigan and as far away as Indianapolis gathered to see, touch and be inspired by the samples on display. By the end of June, about 1,000 samples will be on hand — the largest collection in any academic setting nationwide. Conveniently located for the entire West Michigan design community, this site joins 10 other brick-and-mortar Material ConneXion libraries around the world, along with an online database featuring all 7,500 material samples.
During the open house, guests mingled among samples ranging from lacy, paper-like webs to scented tiles, reflective fabric, and furry fibers before the organization's vice president, Andrew Dent, addressed the crowd.
"I love providing information and energizing creative people by showing them what's available in materials," he said. "One of the best things we can do is encourage cross-pollination. If you understand all the materials, you can start to see connections. Who cares what industry a material comes from if it has properties that can be transferred to other applications? By sourcing materials based on their properties, not what they are supposed to be used for, your list of resources suddenly broadens."
From an academic perspective, Dent said the library's material resources are broader than any school can teach. Students from Kendall have full access to the library, and community members ranging from individuals to companies can subscribe for a fee. The library will be open during regular business hours or by appointment, and the library staff will be happy to set up custom boards for material studies or client presentations.
Max Shangle, Dean of Kendall, said that in addition to giving students the opportunity to touch, feel and learn about materials, the Material ConneXion library also connects Kendall to the outside world.
"We want business, industry, designers and creators of all kinds to understand what we have here," he said.
Reaction among the open house guests was positive, with many of them touching or experimenting with the samples and pointing out their favorites to others. Asked how he might use the library, Scott Sheline, a controls engineer for Gentex, said, "There might be a problem that I don't know how to solve, or I might see a new material that triggers ideas and makes me wonder what I could do with it. It's the uncovered rock that helps with that kind of thinking."
Andy McIntyre, whose Indianapolis-based employer Knauf Insulation manufactures insulation materials with recycled beer bottles, said, "We're always looking for new materials compatible with what we currently produce. Material ConneXion could help us identify new markets or applications for what we're doing or discover new opportunities based on the materials we see here."