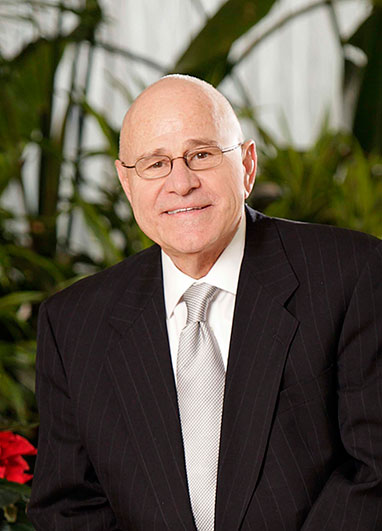 Dick Antonini is retired now, but the exemplary service to his industry and to his community continues to earn accolades.
The Ferris State University graduate, who earned an Accounting degree in 1964, will receive an Honorary Doctorate of Business and Industry from the university during commencement ceremonies at 9 a.m. Saturday, May 11 in Big Rapids.
"I feel honored, humbled and surprised," said Antonini, who retired as CEO and chairman of Foremost Corporation of America in 2000 after a distinguished career with the Grand Rapids-based insurance company.
His retirement came following completion that year of an $812 million merger with Farmers Insurance Group of Companies, an insurance and financial services company headquartered in Los Angeles.
Antonini joined Foremost in 1969 as assistant to the president. His responsibilities grew along with the company, and he held several roles, including executive vice president, chief financial officer and senior vice president. He was named Foremost's CEO, president and chairman of the board in 1986, the same year he was honored as a Distinguished Alumnus of Ferris State University.
In 1987, Antonini returned to Ferris as a guest speaker at commencement ceremonies.
He credits the university with putting him on the road to success.
"Ferris was key to my employment at BDO Seidman," said Antonini, who worked five years at the Grand Rapids-based accounting firm after graduating from Ferris. "My education provided me with the skills necessary to pass the state CPA test."
During his time at Ferris, Antonini enjoyed being involved in the Delta Sigma Pi professional business fraternity but his fondest memories are of living in married housing his senior year. He met his wife, Linda, their senior year of high school and got married the summer before their senior year of college at Ferris.
"We will be celebrating our 50th wedding anniversary in August," Antonini said. He and Linda have four children and 15 grandchildren.
The couple's oldest sons, Robert and Richard, also graduated from Ferris.
Antonini also has been honored for his involvement in the West Michigan community, most recently in 2012 with induction into the Junior Achievement West Michigan Business Hall of Fame, which honors prominent business leaders who have made extraordinary contributions.
He remains active as a chairman of the board for the Spectrum Health Foundation and co-chaired the "For Our Kids" capital campaign for Helen DeVos Children's Hospital, a $286 million state-of-the art facility in downtown Grand Rapids that opened in 2011.
Antonini also serves on the advisory council for Wedgwood Christian Services and served as a cabinet member for its $12 million "Building Hope for Our Children" campaign. He also has chaired campaigns for the Heart of West Michigan United Way, YMCA and the Walk to Cure Juvenile Diabetes.
His service also has included board positions with Old Kent Financial Corporation, Cornerstone University and the Mackinac Center for Public Policy.
"I enjoy seeing the positive impact of people in my community," Antonini said of why he enjoys community service. "I find the gift is greater for the giver than for the recipient. I call it 'the gift of giving.'"
Antonini, a member of Ferris' Phoenix Society, also served on the executive committee of the Ferris Development Council.
More than 1,700 of 1,850 Ferris students who are candidates for degrees will participate in spring commencement ceremonies on Friday, May 10 and Saturday, May 11 in Big Rapids. Graduates will be honored during five ceremonies over the two days in the Convocation Center (Wink Arena) in the Ewigleben Sports Complex on campus.
Also receiving honorary doctorates will be Lupe Ramos-Montigny, a retired educator who serves on the State Board of Education and on the advisory board for Ferris' Center for Latino Studies, and Dr. Joel Robertson, chairman and CEO of Robertson Health.
Ferris' Kendall College of Art and Design will hold its commencement at 10:30 a.m. Saturday, May 11 at Fountain Street Church in Grand Rapids. Of the 249 students who will receive degrees, almost 190 are expected to participate in the ceremony that will include recognition of renowned illustrator Murray Tinkelman with a Doctor of Arts.