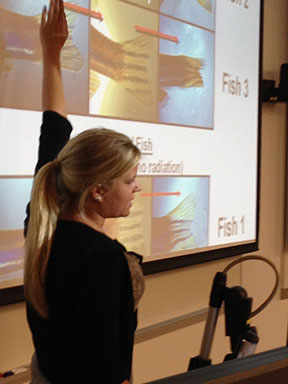 Some Ferris State University students will gain valuable experience through participation in the Student Research Assistant program offered by the Office of Academic Research.
The SRA program is intended to support collaborative research projects between Ferris faculty and students during the fall and spring semesters. It allows faculty to start or expand their own research by providing them support and gives full-time students research experience, said Karen Strasser, director of Academic Research and Grants.
"It was funded by Provost (Fritz) Erickson as one more tool to assist with the student debt reduction initiative," Strasser said. "In general, students engaged with faculty in research develop stronger relationships with the faculty in their disciplines, perform well in their courses and complete their degrees."
The SRA program began with the Fall 2012 semester, on the heels of the university's Student Research Fellowship program offered during the summer semester.
"Many of our students must earn a paycheck while they are in school and over the summer months, and both programs allow the research experience to be more inclusive of students with financial need," Strasser said. "In the past, this type of activity was limited to those students who could afford to donate their time, but a research experience is now open to any student who has the motivation to pursue it."
Funded SRA projects for Spring 2013 are:


The Synthesis and Purification of Novel PPAR gamma/delta dual agonists for Diabetes
Faculty: Tracey Boncher (Pharmaceutical Sciences)
Student Research Assistants: Jeremy Spencer, a Biology/Pre-Pharmacy major from Cadillac, and Michelle May, a Biology/Pre-Nursing major from Lewiston

Effects of High Intensity UVA on Melanocyte Stem Cells
Faculty: Jim Hoerter (Biological Sciences)
Student Research Assistant: Alec Hapman, a Biology/Pre-Medicine major from Portage

Media coverage of bullying and Implicit Power Structures
Faculty: Stephanie Thomson and Paul Zube (Humanities)
Student Research Assistant: Andrea Ayotte, a History major from Waterford

Methodology Improvement for Analytical Testing in Fermentation Processes
Faculty: Mark Thomson (Physical Sciences)
Student Research Assistant: Spencer Crittendon, a Biotechnology major from Rockford

The effect of spinal cord injury on learning and memory
Faculty: Mary Zimmer (Biological Sciences)
Student Research Assistant: Illyas Fana, a Biology/Pre-Medicine major from Kabul, Afghanistan

Effect of upper body resistance training on short and long term memory
Faculty: Mary Zimmer (Biological Sciences)
Student Research Assistant: Aaron Jackowski, a Biology/Pre-Physical Therapy major from Brighton
The two programs are among several internal grant opportunities offered by the university. For more information, visit here.