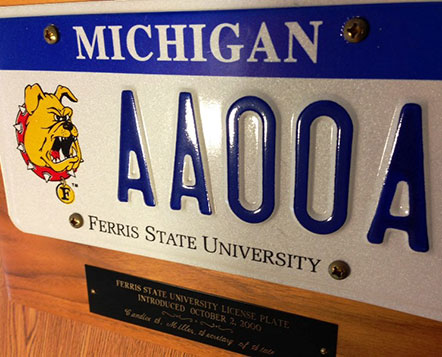 Ferris State University ranks fifth in the state in sales of fundraising vanity license plates among the 15 public universities, according to a report released by MLive.com on Friday, March 15.
The state has sold 40,573 of the Ferris plates, ones featuring the bulldog logo, created initially in 2000. Michigan State University (476,242) has the most sales, followed by: the University of Michigan (344,390), Western Michigan University (71,043) and Central Michigan University (67,990). Of schools with NCAA Division II affiliation, Ferris ranks atop the list, just ahead of sixth-place Michigan Technological University (37,181) and seventh-place Grand Valley State University (30,445).
Jeremy Mishler, director of Alumni Relations at Ferris, is grateful to the tens of thousands who show pride in the university through the purchase of the plates.
"We are grateful that so many of our loyal alumni, students and other friends of the university would share their Bulldog pride by having the Ferris license plate," Mishler said. "With their support of the license plate program, we have been able to expand programming and services for our students and graduates while promoting the use of the latest technology on campus."
The plates help to raise money for special causes, according to the MLive.com article, which can be found here: http://www.mlive.com/news/index.ssf/2013/03/michigan_license_plate_sales.html. The Department of State, according to its website, offers the fundraising licenses plates to Michigan's 15 state-supported universities and special causes such as agricultural heritage, Boy Scouts of America, Children's Trust Fund, lighthouse preservation, veterans' memorial, water quality, wildlife habitat, the Northern Michigan University Olympic Education Center and disaster relief through the American Red Cross and Salvation Army.
Ferris wanted to offer a plate that would be recognizable and showcase the sense of pride that its constituents feel for the university. The popular bulldog logo has been a hit, Mishler noted.
"Our goal from the start was to offer a plate that our constituents would like and be proud to display on their vehicles," he said. "To now be the fifth-best seller among state universities overall and rank as the top seller among our Division II contemporaries is a testament to the pride all fellow Bulldog share for Ferris State University."