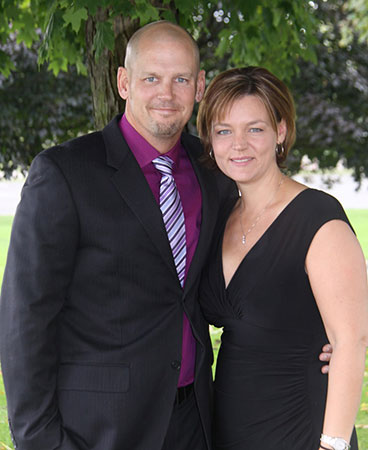 Scholarships helped Matt Nawrocki pay for his college education, so it is only natural that the Ferris State University alumnus celebrates his success by helping students realize their own dreams.
Nawrocki, a 1995 Surveying Engineering graduate, and his wife, Sara, a 1995 Pharmacy graduate, have established the Matt and Sara Nawrocki Gratitude Scholarship Endowment for students working toward a Bachelor of Science in Surveying Engineering.
"Ferris has always held a special place in the hearts of my wife and I," said Nawrocki, a Grand Rapids native who met Sara, of Sudbury, Ontario, as students at Ferris. "We love the school, and we love the area. We had a wonderful experience there, and the education we received has provided wonderful opportunities."
Nawrocki credits his Ferris education as the catalyst for a successful career as president and CEO of a company serving the geospatial community. Following graduation, Nawrocki set his sights on the Rocky Mountains and moved to Denver. Four years later, he founded Vectors, Inc., a company that sells equipment for the surveying industry and employs experts to do it.
"My Surveying Engineering degree is critical to my company's success," Nawrocki said. "It gives me instant credibility to sell products, train people on those products and provide the proper technical support for all of our products."
For the past six years, Nawrocki also has been an adjunct professor for the University of Wyoming's Outreach School in the Civil Engineering Department, teaching Geodesy and Global Positioning System (GPS) courses offered online via audio conferencing and recorded lectures.
"Teaching is another way for me to give back to my profession," he said. "I have a lot of pride in my degree and am blessed that I had the opportunity to obtain it at one of the top programs in the U.S."
Nawrocki has maintained contact with fellow alumni and faculty, including Khagendra Thapa, coordinator of Ferris' Surveying Engineering program who was instrumental in helping to arrange the endowment.
He and Sara often travel to Michigan to visit his mother in Comstock Park and other family in the Grand Rapids area, some of whom also are Ferris alumni. Their trips typically extend to Big Rapids to take their children on a visit to campus and other community haunts.
But even though the Nawrockis live in Denver, it's not difficult to feel close to home.
"Whenever I wear my Ferris sweatshirt, it always creates a conversation," he said. "There are a lot of Michigan people here. If you go into a Walgreens, the pharmacist on duty is probably a Ferris graduate. When the Red Wings are here to play the Avalanche, I guarantee there's a Ferris grad in the crowd."
The Nawrocki scholarship will be awarded annually to a full-time sophomore and/or junior with a 3.0 minimum GPA who has demonstrated a high level of enthusiasm, leadership and involvement in the program and in the Big Rapids community. The recipient also will be a member of a Surveying Engineering-related student organization on campus, such as the Burt and Mullet Chapter of the American Congress on Surveying and Mapping, which Nawrocki was.
The Surveying Engineering Bachelor of Science degree is the largest undergraduate Surveying Engineering program in the Midwest and has one of the best equipped laboratories in the United States. For additional information on the program, visit the Surveying Engineering program page.
For more information about the scholarship or to make a contribution, contact The Ferris Foundation at (231) 591-2365 or [email protected].