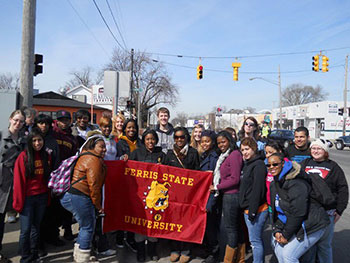 Ferris State University faculty, staff and students once again will participate in the Cesar Chavez Social Justice March and Community Gathering on Thursday, March 21 in Grand Rapids. The annual event honors the late civil rights leader and labor activist, and promotes community unity.
Ferris' Center for Latino Studies is offering transportation from the Big Rapids campus and already has about 40 students signed up, said Tony Baker, the center's interim director. Cost is $5 and includes lunch; email [email protected] or call (231) 591-2470 to reserve a seat.
The university's participation solidifies relationships and further establishes "its role as a community institution within the Latino community in West Michigan," said Baker, also a sociology professor at Ferris.
"We have a unique chance to be truly engaged in the community," he said. "Participants will not only learn about the life of Cesar E. Chavez, but will become members of this vibrant community. Our presence will be noted by school children and leaders."
The march begins at 11 a.m. at the Cook Library Center, 1100 Grandville Ave. SW, and continues to Gospel Temple Baptist Church, 460 Franklin St. SW, for a community gathering at noon. March participants are encouraged to carry school banners and signs.
The annual event is organized by The Committee to Honor Cesar E. Chavez in partnership with the Cesar E. Chavez Unity Committee, a community and collegiate collaborative that includes Ferris, along with Aquinas College, Central Michigan University, Davenport University, Grand Rapids Community College, Grand Rapids Public Museum, Grand Rapids Public Schools and Grand Valley State University.
The legendary Latino leader, who died in 1993, co-founded the United Farm Workers Union. The event, which falls on his birthday every year, is designed to commemorate the vision of Chavez "to engage all, particularly youth, to carry on his values and timeless vision for a better world."
For more information, visit the committee's Facebook page here https://www.facebook.com/CommitteeToHonorCEC.
A follow-up discussion with Ferris participants will be held at 11 a.m. Thursday, April 4 in the Interdisciplinary Resource Center, Room 109.
Ferris' Center for Latino Studies provides educational, social and leadership-development opportunities within Latino communities through student, academic and community connections. Efforts are under way to develop outreach programs that result in access to higher education, service-learning projects and internship opportunities.