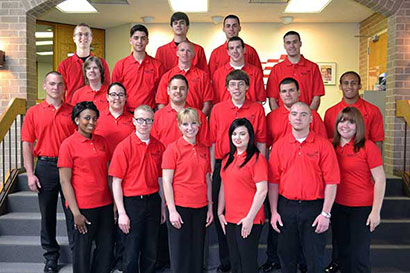 Three Ferris State University students will represent the United States in the biennial WorldSkills Competition July 2-7 in Leipzig, Germany.
Junior Brooke Robison and seniors Kieron Kohlmann and Ronald Olkowski are members of the 20-member SkillsUSA WorldTeam of career and technical education students, the largest U.S. team since it first entered the international competition in 1975. The students will compete against more than 1,000 other students representing more than 60 regions and countries competing in 45 skill competitions and one demonstration contest.
The competitors earned the right to participate by winning local, district and national SkillsUSA championships and completing other qualifying prerequisites.
Kohlmann, an Automotive Engineering major from Racine, Wisc., and Olkowski, a Manufacturing major from Washington, Mich., advanced to the 42nd international event after competing in the WorldSkills Americas competition in November in Sao Paulo, Brazil.
Kohlmann, who earned a gold medal and received "best in nation" in Auto Service Technology, will compete in the Automobile Technology category. Olkowski was awarded the bronze medal in Computer Numeric Control Turning and will compete in the same category in Leipzig.
Robison, a Business major from Big Rapids, won the gold medal in Cosmetology during the SkillsUSA championships in June 2010 and also successfully completed other qualifying prerequisites to land a spot on the WorldTeam.
Team members underwent an extensive training regime to prepare for the competition, which will be attended by 5,000 international experts, delegates and judges, 3,000 volunteers. About 200,000 spectators are expected for the event.
"I really enjoyed the training," said Robison, who traveled to Chicago, Connecticut and Pennsylvania to work with trainers. "I can't believe the amount of skill I've gained. I'm excited to just get out there and see what other countries have to offer."
Robison will compete in eight tests in the Hairdressing category – four more than in previous competitions.
"You are competing against the first place person of the nation in that age group," said Dan Wanink, an associate professor in Ferris' College of Engineering Technology who serves as lead adviser to the competitors. "It's very intense. You have to be a well-rounded contender."
He expects all three Ferris students to represent their team well.
"I think they will do really well," Wanink said. "The education that Ferris provides these students is so aligned with the careers in our industries, and this competition is industry-driven."