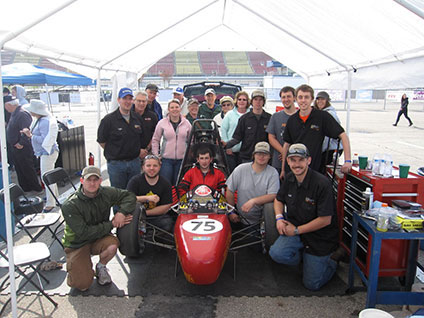 Ferris State University's Formula SAE Team saw the fruits of their labor realized during the Formula SAE Michigan competition at the Michigan International Speedway.
The 17-member team competed in May at the Brooklyn raceway against 120 teams from 10 countries. Adviser Chuck Drake, a professor of Mechanical Engineering Technology at Ferris, said he and fellow adviser Bruce Gregory, a Manufacturing Engineering Technology professor, were more than pleased by the team's effort.
"The team this year worked very well together," Drake said.
The design competition marked the first time the team's vehicle ran successfully on its initial trial and the first time it passed technical inspection on its first pass. The vehicle's weight – 395 pounds – is just shy of being half the weight of the original car entered in 2006, Drake noted.
The Formula SAE competition challenges college students to design, build and compete in a small Formula-style race car. Student teams test a prototype based on a series of rules whose purpose is both to ensure onsite event operations and promote problem solving.
During the year of preparation, students are able to learn valuable skills such as time management and communication, and see the application of much of their coursework.
"The engineering principles and concepts that we employ enforce the basic skills we learn in our classes," said Matt Wissink, president of the Ferris Formula SAE team. "The Ferris Formula team is a good picture of a group of friends attacking a seemingly insurmountable task and succeeding."
This year's team was led by Wissink, of Big Rapids; vice president Bram Ritesma, of Holland; technical directors Nate Jankowski, of Manistee, and Alex Backe, of Hastings; and secretary/treasurer Luke Stephens, of Lowell. Other members include Ron Olkowski, of Washington, Mich.; Dane Nowland, of Cadillac; Dale Grigorenko, of Xenia, Ohio; Lindsey Stanfield, of Bellevue; Josh Mueller, of Petoskey; Kyle Kuznicki, of Byron Center; Ryan Walkington, of Belleville, Ill.; Nick Carrington, of Brimley; Josh Kyburz, of Belding; Ben Priest, of Traverse City; Terry Messenger, of Muskegon; and Zach Fox, of Remus.
Team membership is open to anyone on campus. For more information, email Drake at[email protected].
Formula SAE promotes careers in engineering as well as other aspects of the automotive industry. Competitions are held in the United States – one in California and one in Michigan – and six other countries. The Michigan competition is the largest and longest-running.