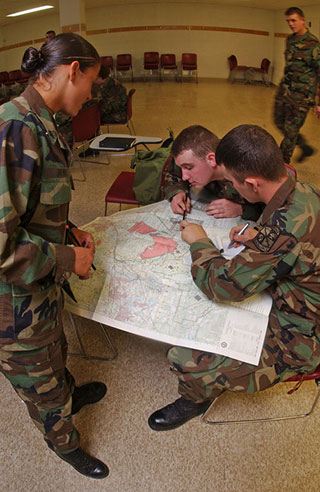 Ferris State University's Army Reserve Officers' Training Corps and Kelly's Deer Processing in Big Rapids once again have teamed up to send military care packages to troops around the world.
Colin Kelly, who owns the business south of the city, has coordinated the project for six years. Since he began partnering with Ferris' Army ROTC three years ago, about $100,000 worth of venison jerky and snack sticks have provided a taste of home for local troops stationed overseas, Kelly said.
"I have always had respect for our troops," he said. "Sending venison jerky is unique, because it is something our local company is used to and loves."
ROTC members helped fill 80 packages, which included the venison processed by Kelly from deer donated by his customers as well as magazines, candy and toiletries. Local residents added personal letters and items for spouses serving overseas. The packages were shipped to local companies first; extras were given to any U.S. soldier.
"We like to keep it local," Kelly said. "However, last year we sent packages to 12 different countries and included five different military branches."
About 60 Ferris ROTC members helped put together the care packages and ready them for shipment.
"Getting involved in the community helps raise awareness of the program and the project we participate in," said cadet Michael Shoop, a senior from Muskegon majoring in Criminal Justice. "This project allows us to pay respect and give back to the people who give the most for us."
Ferris' Army ROTC program teaches students leadership skills through classroom work, community outreach programs and field training exercises as part of their college curriculum. Students can receive merit-based scholarships that cover all or part of tuition in return for active military service after graduation.
"ROTC produces future officers that are leaders," said Shoop. "It is a great opportunity that produces great leaders not just in the military, but also the workplace."