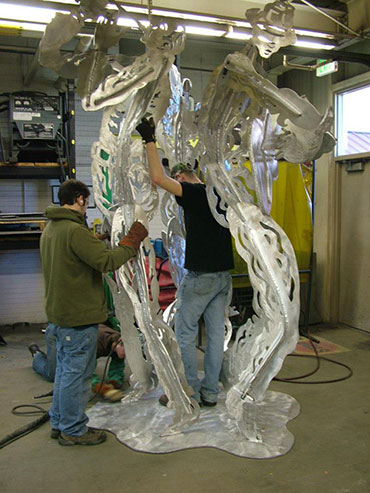 The first sounds of music will emanate from the Reuther Music Pavilion at Canadian Lakes on Sunday, June 30, and the man behind the name is thankful for Ferris State University support in making the project a reality.
Kenneth Reuther, a founding member of The Ferris Foundation, enlisted the help of friend Gary Gerber, an associate professor of Architecture at Ferris, to lead the design of the project in a park near Reuther's home. Gerber, in turn, involved students in his sophomore Architectural Technology class as well as Ferris resident artist Robert Barnum and associate professor of Welding Technology David Murray.
"This is so valuable," Gerber said of the opportunity for Ferris students to work on the project. "I think it's great that we could do this. Ken has done a lot for Ferris, so this is giving something back to him, in a way."
Reuther grew up on the New Jersey coast, and some of his fondest memories are of listening to big band performances at a nearby pavilion. He decided to provide residents of the Mecosta County resort community with a similar venue they could share with the public and was met with support by the Canadian Lakes Property Owners Association.
"I've always had a connection to music and water," said Reuther, who donated funds for the venue in Pines Park. It includes a 40-feet-wide pavilion featuring an adjoining dance floor.
A ribbon-cutting and grand opening of the Reuther Music Pavilion is 7:30 p.m. Sunday, June 30 in Pines Park. The event is part of a week-long 50th anniversary celebration of Canadian Lakes that begins Saturday, June 29.
Reuther credits several Canadian Lakes residents and professionals with contributing to the project, and is particularly happy with the university's involvement.
"The really neat part is that this shows how a community project can be so well-connected with the university," Reuther said.
Gerber's students designed versions of the bandshell for a class project as well as restroom facilities for construction as funds become available.
"This has been an opportunity for students to work on a real project," said Gerber, whose students visited the site twice as well as the Poligon facility in Holland, Mich., that constructed the pavilion's steel structure and roof.
The work of several other Ferris students will greet concert-goers and park visitors in the form of a 12-feet-tall, six-feet-wide sculpture at the entrance to the pavilion's dance floor. The aesthetically engineered sculpture, which depicts three performing musicians, was created by students in Ferris' Welding Engineering Technology and Architectural Technology programs under the direction of Barnum and Murray.
"It's a real beauty," Barnum said of the piece, which students completed in 9 months, from design to fabrication. "It's made of 6,000 series aircraft-grade aluminum, so it has a considerable life span."
Aesthetic Engineering is the focus of studio courses offered through the College of Arts, Sciences and Education' Humanities department in partnership with the College of Engineering Technology. It was created by Barnum as an academic bridge concept that partners programs in different schools and an academic studio concept that develops creative thinking and problem-solving skills to better prepare students for the job market.
"The whole idea behind this concept has been to change student priorities, to create new things that involve communities," Barnum said.
Students this year will work on a piece commissioned for the Susan P. Wheatlake Regional Cancer Center set to open in Reed City, he said.
"To go from music to healing … it's amazing," Barnum said.
Sunday's grand opening will feature a performance by Reuther's son, professional singer, songwriter and musician Rick Reuther, with Mary Rademacher and the Tom Hagen All-Stars. Visitors are encouraged to bring folding chairs or a blanket. The event is open to members and non-members.
The pavilion, situated near the park's Pierce Beach, will allow concert-goers to attend by boat as well. Sunday's concert will be the first in a series of sponsored concerts open to the public.
Reuther, an emeriti director of The Ferris Foundation board, is the benefactor behind three scholarship endowments for students: the Barbara Reuther Memorial Scholarship Endowment for Nursing, the Ken Reuther Leadership Scholarship Endowment and the Thomas Scott Reuther Endowment. He also coordinated and contributed to the Canadian Lakes Endowed Scholarship Endowment for Mecosta County students. He received an Honorary Doctorate of Business and Industry from the university in 1999.