This story is taken from the Spring 2013 issue of the Points of Pride newsletter published by University Advancement and Marketing. The annual edition features some of the talented and driven graduating students who have demonstrated a drive to succeed by doing their best work and taking full advantage of their time at Ferris.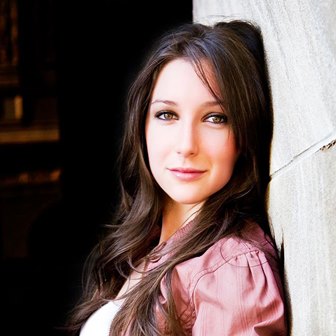 College of Education and Human Services
Lindsay Pepper
Age: 21
Hometown: Big Rapids
Degree: Bachelor of Science in Television and Digital Media Production, Film Studies minor
She is: The proud owner of a Technicolor Sound Services employee badge that allows her to access to the Paramount Pictures lot.
"Lindsay applied herself and always did her best while also seeking out leadership roles with the Media Communications Association registered student organization," said Glen Okonoski, chair of the TDMP department. "She applied that same focus and determination to her pursuit of an internship, landing one of 40 Academy of Television Arts, Sciences and Education internship positions awarded nationally. Her exemplary attitude and drive make her an excellent example of the best that Ferris has to offer."
Awards and honors: College of Education and Human Services Dean's List, President's Academic Scholarship recipient, Steven Falcone Memorial Scholarship recipient
Campus and community: Media Communications Association president, Big Event volunteer
Point of Pride: "I am 21 years old, living in Los Angeles with a full-time job in the field that I want to be in. And most of all, I did it on my own."
What inspired her to pursue this degree: "I've always been interested in what goes on behind the scenes of film and television productions, and I discovered that I could get the education that I needed at a place that I could afford by going to Ferris."
A formative experience at Ferris: "My final semester at Ferris was very fast-paced and intense, and it really got me mentally ready for what I would face as I entered my career."
Her plan: Lindsay moved to Los Angeles last summer after being awarded the internship with the Academy of Television Arts, Sciences and Education, working for Larry Levinson Productions until December. After completing the internship and fulfilling her degree requirements, she was offered a receptionist position with Technicolor, a post-production sound-mixing facility that works on such shows as HBO's "True Blood" and Fox's "Glee."
"I aspire to work in the development of episodic television or film and work my way toward producing."
A person at Ferris who inspired her: TDMP professor Clayton Rye
"Clayton always knew that I had big dreams and that I was not going to settle for anything less, and he inspired and motivated me to pursue those dreams. Clayton helped keep me focused and in the right mind set so that I could achieve whatever I put my mind to."
Advice for students: "Take your education seriously, and stay focused. Find that special thing about you that makes you stand out and use it to your advantage. Push yourself to follow your true passions and don't hold back. It will pay off in the long run."
A passion: "I love life, I love people and I love new experiences. I think that's why I fit well in the film and entertainment industry. There are constantly new people to meet and new challenges to overcome, but I am so passionate about the art of film and television that at the end of the day, I'm happy."
An adventure: "When I was a teenager, I was an aspiring actress and model. This led me to be accepted to an elite team of fellow actors and models that trained in Detroit for six months and then traveled to L.A. for a week of competitions in front of agents and managers from all over the world. It was the most amazing experience of my life, especially when I won one of my competitions over hundreds of fellow contestants. The love of the industry and the city of L.A. helped me decide what I wanted to study in college."
One word that best describes her: Ambitious
Favorite place to travel: Mackinac Island
No. 1 on her bucket list: To travel, first to Europe