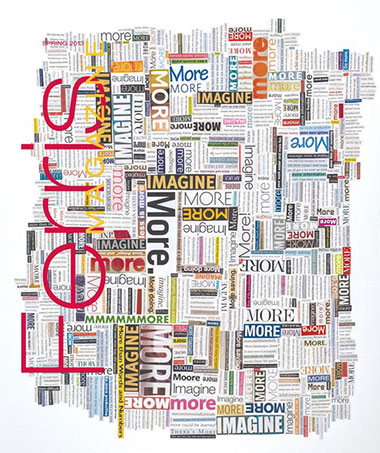 The new issue of Ferris Magazine is dedicated to the academic, cultural and physical future of Ferris State University.
The 50-page publication includes "Building the Campus of the Future," a story about the renovation of the Rankin Student Center into a modern University Center to better meet the needs of students, faculty, staff and the community. The project is slated for completion in December 2014.
"This has been a university priority since I first came to Ferris, and we are very pleased to now create this modern educational and social resource without additional costs or fees for our students," President David Eisler writes in "Vision," his column in the publication.
The piece "Toward the 22ndCentury" details how the Ferris of the future must continue to be nimble, international, interdisciplinary, virtual and connected. The story explains how new degree programs are being created and how existing programs with the fastest-changing technologies are being reorganized. It addresses the university's Globalization Initiative, Fulbright Scholars program, international student enrollment and efforts by its Office of International Education.
The story also discusses higher education's innovation in development of online courses and virtual experiences for students, and efforts to fuel connectedness, which , in turn, boosts volunteerism.
The issue also features articles on Ferris' new Doctorate in Community College Leadership program and Center for [email protected] Studies, and pieces on alumni, such as SuperMercado Mexico owner Javier Olvera. There also is news about current students, faculty and staff.
Ferris Magazine is published twice a year by University Advancement and Marketing and mailed to alumni and friends, employees and other key constituents.