This story is taken from the Spring 2013 issue of the Points of Pride newsletter published by University Advancement and Marketing. The annual edition features some of the talented and driven graduating students who have demonstrated a drive to succeed by doing their best work and taking full advantage of their time at Ferris.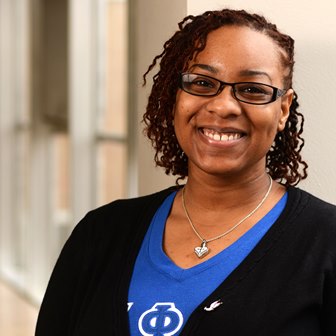 College of Arts, Sciences and Education
Brittany Lofton
Age: 24
Hometown: Grand Rapids
Degree: Bachelor of Science in Psychology (Associate in Arts in Liberal Arts, 2012)
She is: The winner of one of Ferris' highest student honors, the 2013 MLK Legacy Award.
"Brittany is an excellent example of perseverance, dedication and student leadership at Ferris," said Michael Wade, assistant director of the Office of Multicultural Student Services.
Awards and honors: MLK Legacy Award, Progressive Woman Award, SCHOLAR Peer Mentor Program M&M (Mentor and Mentee) Award , Omega Psi Phi Fraternity, Inc.'s Outstanding Uplift Award, Virtuous Young Women of Creston Award for Activism
Campus and community: Black Greek Council, Zeta Phi Beta Sorority, Inc., My Sister's Keeper, Inc., Student Psychology Association, TOWERS Leadership Development Program, Student Government Diversity Committee, OMSS student manager
Point of Pride: "Being able to overcome adversities and still continue to have a smile on my face."
What inspired her to pursue this degree: "I love working with the community and children. I was once a foster child, so I know what it feels like to be in the system. I feel like my purpose in life is to help guide them."
A formative experience at Ferris: "Joining different organizations on campus, leading events, helping out with the Big Event. It's a lot, so I don't have a favorite."
Her plan: Brittany plans to pursue a master's degree in Social Work and a doctorate in Psychology.
"I want to travel, but my ultimate goal is to open up my own practice specializing in marriage and family."
A person at Ferris who inspires her: OMSS secretary Andrea Beck-Jones
"She has been there since my freshman year. She has been a mother, sister and friend to me. I consider her my guardian angel, because she's not only helped me become the woman I am today, but she continues to push, encourage, motivate and support me, and I love her for that."
Advice for students: "Don't let anyone stop you from your goals. Your past does not determine your future, but your present does, so make sure your priorities are in order."
A passion: To make a better life for herself and the people she encounters
Facing adversity: Brittany is a member of the Ferris Youth Initiative, a program that provides support and learning opportunities for foster care youth and low-income orphans who attend the university. She is among the first FYI members to graduate. FYI coordinator Janette Ward said Brittany "truly wants to work on making the world a better place."
Brittany adds: "I've never been the smartest person, nor do I see myself as above anyone. But I've conditioned myself to not listen to negative people – people who thought I wouldn't get into college, people who thought I wouldn't graduate … I am proving them all wrong, and I will continue to better my life so my children won't have to experience the things that I did while growing up."
Something fun: "I joined one of the greatest sororities. I've traveled to two national conferences, three regional conferences, three state conferences and two undergraduate retreats."
One word that best describes her: Tenacious
Favorite season: Spring
No. 1 on her bucket list: To go snorkeling