This story is taken from the Spring 2013 issue of the Points of Pride newsletter published by University Advancement and Marketing. The annual edition features some of the talented and driven graduating students who have demonstrated a drive to succeed by doing their best work and taking full advantage of their time at Ferris.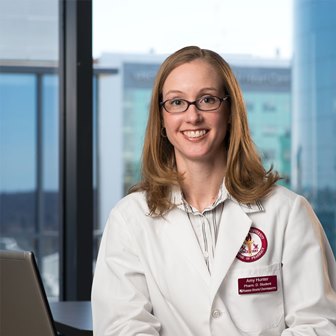 College of Pharmacy
Amy Hunter
Age: 33
Hometown: Wabash, Ind.
Degree: Doctor of Pharmacy (Bachelor of Science in Elementary Education, Butler University, 2001)
She is: A former elementary school teacher who left her job to pursue a career in pharmacy
Awards and honors: Kappa Delta Pi, Phi Eta Sigma, Mortar Board, Phi Lambda Sigma (Pharmacy Leadership Society), Rho Chi, Russell G. Merithew Scholarship

Campus and community: College of Pharmacy Student Advisory Board, Academy of Student Pharmacists, Michigan Pharmacists Association, Rho Chi vice president, Pharmacy mentor, Hope Clinic volunteer, poison prevention instructor, Zumba instructor
Point of Pride: "I am proud to complete my PharmD degree, because it required years of sacrifice and dedication. I will be striving to be a positive force in the field of pharmacy with the ultimate goal of improving the lives of my patients."
What inspired her to pursue this degree: "When I was looking to change careers, I needed to be introspective and truly gauge my strengths, weaknesses and interests. Pharmacy is exciting, versatile and provides opportunities on a daily basis to work with patients to improve their health."
Additionally, her family includes several generations of pharmacists.

A formative experience at Ferris: "I value friendship and support, and attribute much success to those dear friends and classmates who endured a tough curriculum directly alongside me."

Her plan: Amy has been hired as a community pharmacist with CVS in West Michigan. Her interest in the elderly may result in future work as a consultant pharmacist.

A person at Ferris who inspired her: Dr. Jeffery Bates, College of Pharmacy professor
"His concern for his students and patients is evident in the way he practices and relates to others. He is available and willing to help as his students stretch, learn and grow. I am inspired by how Dr. Bates balances the love for his family and passion for pharmacy so well."

Advice for students: "Be willing to face challenges and take risks. Be willing to accept failures and setbacks; learn from them and try again. You might miss achieving your dream if you play life too safely."

A passion: Dance.
"I danced from the time I was 2 until I was 17. I love to dance even now. During a visit to New Orleans for a pharmacy convention, the opportunity arose to dance with a local gentleman who kindly offered me Cajun Dance Certification. It would be fair to say I have been mulling around the idea of taking an adult dance class once I am established in my new profession."

Facing adversity: "The majority of my challenges involve grief and a deep sense of loss. Nearly 12 years ago, I lost my brother-in-law tragically after I had been married for only two months. While in pharmacy school, my last grandparent passed away unexpectedly. Even loss of a true friendship during pharmacy school posed its own challenges. However, my faith in God and willingness to keep pressing ahead allows me to enjoy the many blessings I have and to appreciate the memories of those who have passed away."

An adventure: Amy studied at the University of Glasgow in Scotland for a semester in 1999.
"I enjoyed participating in a Scottish Country Dance Club on campus as well as exploring parts of the United Kingdom. I visited the Forbes Castle in Aberdeen, toured the Isle of Mull and climbed the William Wallace Monument, among many other neat adventures. When I returned to the States, I craved Jack McPhee's fish and chips."

One word that best describes her: Dedicated

Favorite season: "Michigan is a great place to live when your favorite season is winter. The snow-covered ground and sparkling, icy trees are breathtaking."