This story is taken from the Spring 2013 issue of the Points of Pride newsletter published by University Advancement and Marketing. The annual edition features some of the talented and driven graduating students who have demonstrated a drive to succeed by doing their best work and taking full advantage of their time at Ferris.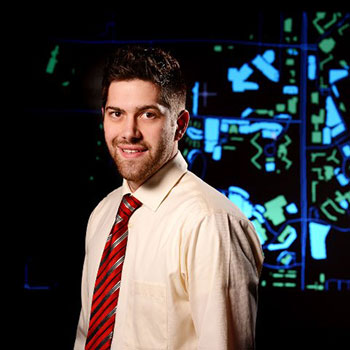 College of Engineering Technology
Benjamin Glerum

Age: 26

Hometown: Coopersville

Degree: Bachelor of Science in Facility Management (Associate in Applied Arts and Science in Architectural Technology, Grand Rapids Community College, 2011)
He is: The winner of the International Facility Management Association's ePoster Competition for a building information model on first-floor renovations of the Swan Building. He will represent Ferris at the European Facility Management Conference May 22-24 in Prague.
"Ben is a very articulate and self-confident, and his accomplishments are way beyond what is normally seen of students their senior year of college," said J.K. Yates, dean of the College of Engineering Technology.
Awards and honors: Phi Theta Kappa National Honor Society member and scholarship, IFMA Foundation scholarship, IFMA ePoster Competitition winner
Campus and community:IFMA, College of Engineering Technology Dean's Advisory Board, software tutor, teaching assistant; helped create the web-based GIS system and database used by Ferris; created building information model for redesign of Manufacturing Engineering Lab
Point of Pride: "I have had a complete paradigm shift on how life should be lived and what people should strive to be. I have spent countless hours exceeding all expectations put in front of me and that, I can firmly say, is what will take me to places I never thought I could go in both my personal life and professional career. So that development in perseverance and determination that I have strived for in a day-to-day mindset is what I consider to be my point of pride."
What inspired him to pursue this degree: Interest in architecture and built environment, from design to facility management
A formative experience at Ferris: "My entire Ferris experience has been extremely influential on my life. There is not one point in time that I can depict being less important than the other."
His plan: Ben was offered a job by the U.S. Department of State to install software at U.S. embassies worldwide and train employees how to use it.
"I will get to travel the world and get paid to do it."
Advice for students: "Never say no to an opportunity, and accomplish things with the mindset of perseverance to exceed all expectations. With that, you will be able to go anywhere and do anything you set your mind to."
What he will miss most about Ferris: "I will miss the fact that it snows six months out of the year and is generally more cloudy than sunny."
A passion: "My family. I have a beautiful wife, Jacki, and a baby girl on the way, and there is nothing more important in this world to me."
Facing adversity: "I was in the tool and die industry for five years after high school, and, along with the recession, I lost my job and had to choose a different career path, which brings me to where I am today. I have been in college for the last four years striving to be the best that I can be so that I will have a bright future."
Little-known fact: "I am colorblind, but I am still an interior design and conceptual design consultant."
One word that best describes him: Determined
Favorite place to travel: Charleston, S.C.
"They have the best low country crab cakes."
No. 1 on his bucket list: "I fully plan to develop a pill that extends my existence far beyond that of the average life span today – with absolutely zero knowledge in chemistry or pharmaceuticals."