A Ferris State University student's Tweet has earned her the title of Google Glass Explorer.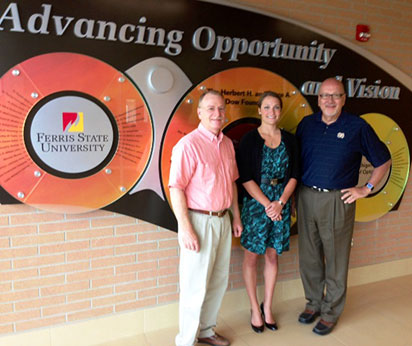 Elyse Kleifgen, a second-year intern in the university's Michigan College of Optometry professional program, is among 8,000 people chosen by the technology giant to try out its much-anticipated Glass wearable computer. She applied after learning MCO's new Vision Research Institute was offering students financial support for the $1,500 device to explore implications for the eye care field.
"We don't have a clue what this could do," said Craig Norman, director of the Vision Research Institute, which is dedicated to the creation, development and testing of products and procedures for vision correction. "Students have bright, fertile minds, and we want to harness their ideas. Research is a feather in the cap for an institution, and we want to be known as a place that gets things done."
When the VRI posed the offer through an email to MCO students, Kleifgen was bursting with ideas.
"I immediately thought about how it could be used for research, during an eye exam to bring up a patient's chart and never have to turn away from the patient, for diagnosis, as a student in the classroom …," said Kleifgen, of Minocqua, Wisc.
Google created the Explorer program in February to find "bold, creative individuals" to test Glass before its wide release in late 2013 or early 2014. Applicants were required to use social media sites Twitter or Google+ to say, in 50 words or less, how they would use it.
Kleifgen – otherwise known by her Twitter handle @msmadtwnweather -- posted a picture of a retina with this Tweet:
#ifihadglass optometry would evolve. I could capture exactly what I see for diagnosis, treatment and research. #eyes
She received an invitation to join the Glass Explorers program a month later, and next week Kleifgen will get to try the device out. She will be in San Diego for the American Optometric Student Association's annual meeting and will travel to Google's Venice Beach campus for a fitting and training. (Explorer winners are required to pick up the device at Google offices there, in the San Francisco Bay area or in New York.)
When she returns to the AOSA conference, Kleifgen plans to get to work familiarizing herself with how Glass works. And while the device offers research opportunities for eye care, Kleifgen also will be able to explore benefits for students.
When she comes back to Big Rapids, Norman and professor Bruce Morgan will meet with her to plan a July brainstorming event with MCO students and use of social media to take suggestions from other Ferris students.
"From that standpoint, everybody wins," Morgan said. "Explorer is a moniker for adventure. The possibilities are endless."