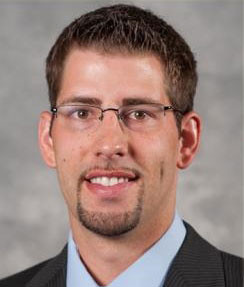 Ferris State University has tabbed a West Michigan native to become the school's 13th men's basketball head coach as Athletics Director Perk Weisenburger announced on Friday, June 28, the appointment of Andy Bronkema as the Bulldogs' new head coach.
A native of McBain, Bronkema was a two-time collegiate All-America student-athlete at Cornerstone University in Grand Rapids and has spent the past six seasons as an assistant coach at Ferris State, including the last three years as the program's top assistant. His elevation to head coach comes following an extensive search process that yielded applicants from across the country and covered every level of collegiate basketball. The appointment is effective July 10.
An introductory press conference, which is open to the media and public, is scheduled for this coming Monday (July 1) at 2 p.m. in FSU's Wheeler Pavilion.
"After a thorough and detailed process, I am excited to announce that Andy Bronkema will take over the leadership and direction of our men's basketball program as our new head coach," Weisenburger said.
"Andy has done an excellent job of leading our program in an interim capacity, he distinguished himself throughout the interview process and demonstrated to me and the search committee that his commitment and investment in Bulldog basketball over the past six years has meaningful value and that as our head coach he has the opportunity to make this basketball program even stronger," he added.
Bronkema has served as the program's interim head coach since the May resignation of former head coach and colleague Bill Sall, who accepted the head coaching position at fellow Great Lakes Intercollegiate Athletic Conference (GLIAC) counterpart Northern Michigan.
An individual with championship experience at every stop of his prep and collegiate playing and coaching career, Bronkema has been heavily involved with all phases of the program as the top assistant coach, including recruiting, scouting, on-floor coaching and administrative tasks in addition to running the summer camp program, assisting with fundraising efforts and monitoring the program's academic progress.
"Andy's played a key role in our recruiting efforts the last six years and certainly has been the face of that push in the last six weeks," said Weisenburger. "We expect this to be a smooth transition based on his relationships with our current student-athletes and familiarity with our university and program."
Bronkema will take over a Ferris program with a long track record of success that includes more than 1,000 all-time victories, 13 GLIAC Championships and nine NCAA Tournament appearances.
"I'd like to thank Ferris State University President David Eisler, Vice President Jerry Scoby and Perk Weisenburger for this opportunity of leading the men's basketball program," said Bronkema. "This is a tremendous institution and a program with a rich history and tradition.
"Our goal will be to embrace the history of Ferris men's basketball and continue the path of championship success that has been set before us," he added.
This past year, with Bronkema as the Bulldogs' top assistant, Ferris wrapped up the 2012-13 season with a 14-13 overall record and the Bulldogs reached the GLIAC Postseason Tournament for the eighth time in the last nine years, which ranks as one of the conference's top showings over the past decade.
In his first year as the program's top assistant in 2010-11, the Bulldogs won the GLIAC North Division Championship and reached the NCAA Division II Sweet Sixteen. FSU followed up the memorable campaign by winning a share of a second-straight GLIAC North Division crown in 2011-12. The Bulldogs have made five-straight league tournament berths to date in Bronkema's tenure as an assistant coach and Ferris has recorded more victories in the competitive GLIAC North than any other school over the last three years.
A strong motivator and communicator, Bronkema has helped recruit, coach and develop seven all-conference players and a pair of All-Americans in his stint with the Bulldogs, including 2010-11 Division II National Player of the Year Justin Keenan.
"Andy's been a top-notch individual throughout his time at Ferris and I believe he'll do well leading this program," said Dr. Bob Buckingham, the associate dean of FSU's Michigan College of Optometry and a longtime supporter and benefactor of men's basketball who served on the search committee. "He's bright and energetic and will work very hard to keep Bulldog Basketball as one of the conference and nation's premier programs."
Prior to his tenure as the top assistant coach, Bronkema also served three seasons as an assistant on the Bulldog staff from 2007-10 while teaching elementary physical education at Crossroads Charter Academy in Big Rapids. The Bulldogs averaged 15 wins per year and twice reached the GLIAC Postseason Tournament in that stretch as he assisted in all aspects of the program with an emphasis on player development.
Before his arrival at Ferris, Bronkema was a collegiate standout at NAIA Division II member Cornerstone University. As a player, he served as team captain in both his junior and senior seasons. Bronkema was voted All-Wolverine Hoosier Athletic Conference (WHAC) three times and twice garnered NAIA Honorable Mention All-America laurels. He was also chosen as a Basketball Coaches Association of Michigan (BCAM) Scholar-Athlete Award recipient and was a two-time academic all-conference honoree.
In his four years of college hoops, Bronkema led Cornerstone to two regular-season WHAC Championships, one WHAC Tournament crown and four national tournament appearances, including a NAIA Final Four showing. He concluded his collegiate career with 1,725 points, 982 rebounds, 336 assists along with 140 steals.
Bronkema also served as the head running backs coach with the Grand Rapids Community College football team in 2005 when they finished as the National Junior College Athletic Association (NJCAA) Non-Scholarship National Champions.
As a prepster, Bronkema was a three-sport athlete and competed in football, basketball and baseball at McBain High School. He was part of 14 championship teams while at McBain and helped the Ramblers to a state hoops title in 2002 in addition to a state football runner-up effort in 2001.
A member of the National Association of Basketball Coaches (NABC), Bronkema also holds membership in the BCAM, the Michigan High School Coaches Association and the National High School Athletic Coaches Association. He earned his Bachelor's Degree in Education from Cornerstone University and is currently working towards his Master's Degree in Education at Ferris State. While at FSU, he's also served as an adjunct professor for the College of Education and Human Services.
Andy and his wife, Jenae, currently reside in Big Rapids with their daughters, Elliana and Cambria.
Ferris has won four league championships and twice reached the NCAA Division II Sweet Sixteen in the past decade. FSU also posted an impressive 10-1 mark at home in league regular-season action during the 2012-13 season at Jim Wink Arena.
A strong nucleus is expected back for the Bulldogs this fall in Bronkema's debut season as 11 of the Bulldogs' 13 team members from this past campaign are eligible to return.