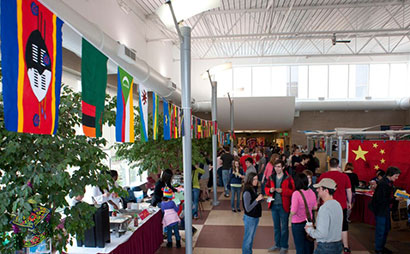 Ferris State University's Intensive English Program has a new name to better showcase the full spectrum of its work. The former IEP program was renamed the West Michigan Intensive English Language Institute.
"The West Michigan Intensive English Language Institute reflects Ferris' mission to prepare our students to serve our rapidly changing global economy and society, and our ability to serve as a leader in English language and cultural awareness teaching in our regional community," said Fritz Erickson, Ferris' provost and vice president for Academic Affairs.
As part of Ferris' Office of International Education, IEP was designed to integrate university globalization efforts and English language training through curricular experiences for international students and co-curricular engagement for domestic students. As part of these efforts, the MYPLACE program offers scholarship opportunities for domestic students to study abroad. Students who interact and engage with International WMIELI students can apply for this scholarship.
The program was originally established in Fall 2010 with 13 students. Two years later, in Fall 2012, the program grew to more than 100 enrolled international students. WMIELI's mission is to equip students with English language skills as well as the cultural awareness and academic behaviors that will lead to success in Ferris' academic programs.
"We value the collaboration demonstrated by our faculty and Office of International Education through the West Michigan Intensive English Language Institute," Erickson said. "Through the institute, we are able to provide more than just the opportunity for our non-English-speaking students to learn English; we also promote learning relationships between our international and domestic students, study abroad opportunities, and connections to people and resources across our communities and around the world."
In Summer 2012, Ferris became a member of the American Association of Intensive English Programs. Additionally, the university has a core of nine highly-qualified and experienced faculty members who provide leadership and excellence in the field of English language teaching. Currently, all classes are taught in Big Rapids; however, the program plans to start IEP classes in the Grand Rapids area.