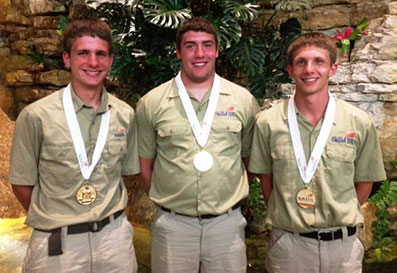 A team of Ferris State University students earned gold medals at the 2013 SkillsUSA Championships, where nearly 6,000 career and technical education students – all state contest winners – competed in 95 trade, technical and leadership fields during the national showcase.
College of Engineering Technology students Brandon White, of Plymouth, Thaddeus Wilcome, of Sparta, and Shane Ferris, of Lyons, took the top spot in the Automated Manufacturing Technology competition. The championships were held during the June 25-28 National Leadership and Skills Conference in Kansas City, Mo.
Also representing Ferris at the 49th annual event were Matt Haan, a sophomore Technical Drafting major from Lowell, who placed seventh in his category; Andy Doane, a junior from Muskegon majoring in Diesel Equipment Technology; and Rachel Reber, a sophomore from Bellevue majoring in Graphic Communications, who placed fifth.
The students earned gold medals at the Michigan SkillsUSA competition in April in Grand Rapids to advance to last month's national finals. The championship competition is designed to reward students for excellence, to involve industry in directly evaluating student performance and to keep training relevant to employers' needs.
The Ferris students also spent time outside the competition, working with the Timberland PRO Community Service Project to install sustainable food gardens for the Niles Home for Children, a residential treatment home for abused, neglected or abandoned children in Kansas City.
"Just to see the look on their faces, knowing how that one day of us working from 7 a.m. to 3 p.m. helped them out so much – it's fun," said Dan Wanink, an associate professor in Ferris' College of Engineering Technology who serves as lead adviser for SkillsUSA.
Ferris has been participating in SkillsUSA competitions since the late 1970s. More than 300,000 students and advisers are members of SkillsUSA, whose mission is to empower members to become world-class workers, leaders and responsible American citizens.
Three Ferris students are in Leipzig, Germany for the biennial WorldSkills Competition. Junior Brooke Robison and seniors Kieron Kohlmann and Ronald Olkowski are members of the 20-member SkillsUSA WorldTeam.
PHOTO CAPTION: Ferris State University's Automated Manufacturing Technology team of, from left, Ted Wilcome, Shane Ferris and Brandon White earned gold medals at the 2013 SkillsUSA Championships.