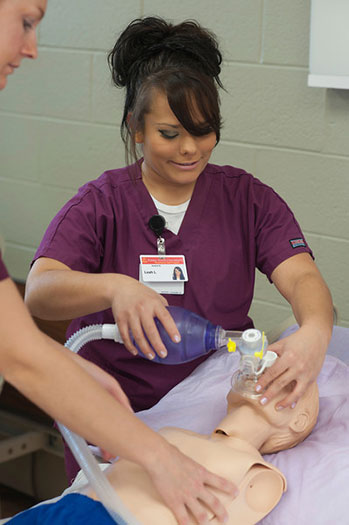 Nursing is one of the best jobs available, and Ferris State University offers one of the best educational opportunities for a career in the field. U.S. News and World Report agreed.
Ferris' Master of Science in Nursing was ranked No. 1 on U.S. News and World Report's list of Best Online Graduate Nursing Programs released earlier this year, and nursing was No. 2 on its 100 Best Jobs of 2013 rankings.
In a recent story by Devon Haynie, an education reporter with the news and information service, the Ferris program is a good option for those interested in pursuing a career in the field.
"For people concerned foremost with job security, a career in nursing could be the ultimate elixir. The U.S. is expected to face a big nursing shortage caused in part by the aging baby boomer generation, according to the American Association of Colleges of Nursing," Haynie wrote.
"Nurses interested in climbing the managerial ladder or yearning for a salary hike might also consider earning their master's degree in nursing online," she continued, before noting Ferris offers the top online program. (Read more here.)
Nursing is both a challenging and rewarding career that is predicted to continue to be in high demand for the next two decades and beyond, said Julie Coon, director of Ferris' School of Nursing.
"At Ferris, we prepare nurses to enter the workforce as newly licensed Registered Nurses (RN) in our pre-licensure undergraduate Bachelor of Science in Nursing (BSN) program, and in addition we offer a post-licensure BSN program for RNs who desire career mobility," Coon said. "The health care setting has established a growing need for nurses who are prepared at the BSN level and beyond, and Ferris helps to meet that demand with our post-licensure programs at the undergraduate and graduate levels that are offered fully online for the working RN."
Many students enter the RN to BSN completion program and continue on for their Master of Science in Nursing (MSN), because they find the online program to be consumer-friendly, she said.
"In fact, we also offer an accelerated track that allows qualified RN to BSN students to 'accelerate' into the MSN program, by skipping the last 10 credits of the BSN program when they enter the MSN program," Coon said. "Once all MSN course work is completed, students are awarded both the BSN and MSN degrees."