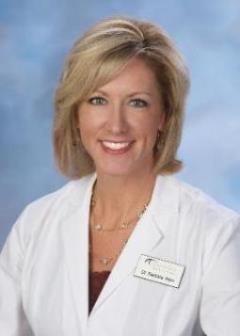 Ferris State University alumna Dr. Barbara Horn has donated a cart and equipment for infant eye examinations to the Michigan College of Optometry.
"I wanted the optometry students to have access to this cart because it will further educate them on how to properly perform infant vision exams and develop a comfort level that will inspire the majority of graduates to include infant vision as a core patient-care service in their future practices," said Horn, a 1998 MCO graduate.
MCO students and faculty provide complete infant eye examinations at no cost as part of InfantSEE, a public health initiative of the American Optometric Association. InfantSEE assessments are provided in the Pediatrics and Binocular Vision Service at MCO's University Eye Center, which serves the West Michigan community.
"Many eye conditions have no symptoms that can be identified by a parent or in a well-baby check-up," said Horn, an AOA trustee and American Board of Optometry diplomate. "Early detection is the best way to ensure a child has healthy eyes and appropriate development of vision – now and in the future."
Horn has a Michigan-based private practice, ExpertEyes, with locations in Washington and Chesterfield.