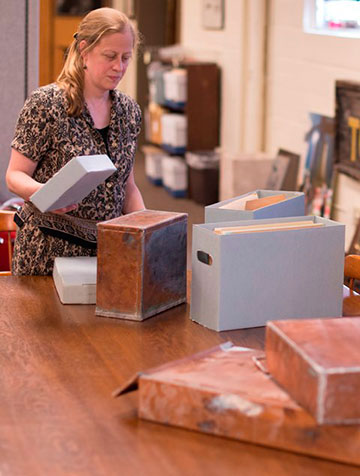 VIDEO: Discussing Ferris State University Time Capsules

Time capsules containing a treasure trove of mementos from former days at Ferris State University have been uncovered as part of its University Center renovation project.
Professional masons removed capsules in Carlisle and Masselink residence halls before their demolition earlier this summer, as well as one from the Rankin Student Center, which is undergoing significant renovation. The work is part of a $33.9 million project that will result in a modern University Center to better meet the needs of faculty, staff, students and the community. The residence halls were demolished to provide additional parking.
The copper boxes and cornerstones that housed them were transferred to Archives in Room 101 of the Alumni Building.
"It's necessary for time capsules to be removed before demolition of a building starts, if at all possible," said Melinda Isler, the university's archivist and Special Collections librarian. "This prevents the capsules from getting damaged."
The time capsules are among about 15 on campus, Isler said. A 1950 fire destroyed the university's original building, Old Main, leaving only the Alumni Building in its wake. During the next 20 years, Ferris constructed many of the more than 100 buildings that now exist.
"Time capsules were put into every building on campus built and dedicated between 1951 and 1970," Isler said. "They are a stamp of what the times were like back when they were placed in the buildings."
Time capsules from Masselink, a residence hall dedicated in 1955, and Carlisle, dedicated in 1957, have been opened and reveal copies of the Ferriscope yearbook, an emergency loan application, candy and cigarette inventory sheets and overnight guest permits. The contents had no significant damage or deterioration, Isler said.
"After the time capsule from Pennock Hall had extensive water damage, we weren't too optimistic about the outcome of these," she said. "However, the materials came out much better than expected."
Pennock Hall was constructed in 1968 as a residence hall and became the home of the Michigan College of Optometry in 1977. When a new facility opened in January 2011, Pennock was demolished the following June to provide additional parking for Cramer Hall.
The time capsule retrieved in May from the Rankin Student Center (dedicated in 1958) has not been unsealed. The capsule, believed to include a Ferriscope yearbook, Torch student newspaper and Expositor staff newsletter, will be scheduled for opening by a Physical Plant official, Isler said.
Contents of the time capsules will be held in Archives, while the Masselink and Rankin Center cornerstones will become part of a two-story fireplace in the new University Center.
"The contents may go on display for short periods," Isler said. "The documents can't be exposed to outside light for a long period of time. That's what helps keep them in good condition."
The university's latest time capsule marked Ferris' 125th anniversary and was sealed in 2010. It includes items faculty, staff, students and community members deemed representative of Ferris at the time. The time capsule will be opened in 2034.
The Archives, which contain items that document Ferris' history, include a desk and safe that belonged to founder Woodbridge N. Ferris, as well as historical documents, photographs, electronic records and more.
Watch a video about the time capsules, below: