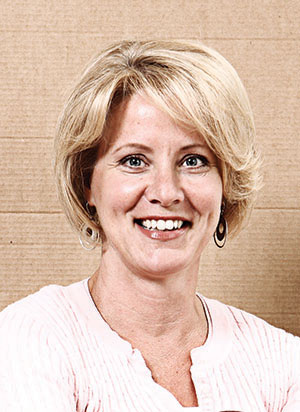 GRAND RAPIDS — Cindy Todd has devoted her career to helping art education students shine. And now, one of them has turned the spotlight back on her.
Todd, an associate professor and chair of the Art Education program at Ferris State University's Kendall College of Art and Design, has received the prestigious National Art Education Student Chapter Sponsor Award of Excellence. Student Sherri Heffron nominated her instructor for the award, given annually to recognize outstanding achievement, contributions and service to the field of art education by the sponsor of a student chapter.
Todd will be presented with the award in March during the NAEA national convention in Fort Worth, Texas.
In her nomination letter, Heffron said Todd encourages all of her students to be involved in the organization at the local level within the college and at the state level at annual conferences.
"There, our students can connect with other art education students from around the state, become presenters, make connections with professional art educators and volunteer time at the conference," Heffron said. "Dr. Todd makes a point to see each of our presentations and introduces us to as many professional art educators as possible. Without a doubt, she is the foundation of our program, and her unfailing dedication to students is priceless."
Todd's colleagues in the department were eager to support the nomination.
"I can think of no one who is more deserving of this recognition than Cindy Todd," said associate professor Donna St. John, who went on to describe the Kendall student chapter as an active group that promotes inclusion and networking, takes part in philanthropic causes and plays an active role in state and local conferences. "Cindy encourages our students to not only attend the conferences, but also to speak and be active with the organization. Kendall is fortunate to have a professor of her caliber who continues to inspire both students and colleagues to become better at what they do."
The nomination also was supported by Kristen Morrison, Kendall's student teacher placement officer, who said the student chapter "is arguably one of the most active in the country."
"This all stems from Cindy's enthusiasm, energy and positive outlook, which motivates our students," Morrison said. "Cindy may ask a colleague, acquaintance or perfect stranger to forward an opportunity for the students. She encourages everyone to develop a new idea for teaching or apply for an existing position. The pebble in the pond is the perfect metaphor for the positive influence she has on our Art Education students, and in turn, the thousands of students they will meet in their careers."
Nominees for the award are evaluated for their ability to promote community service activities, cross-curricular activities, member participation in professional development, fundraising for the chapter and student presentations at conferences. Applications are reviewed by a committee of art education peers.
Todd was notified in January of her selection for the award. She will be joined at the NAEA convention by St. John and Morrison, all of whom will be presenting on different topics. Three students, including Heffron, also will attend.
Todd said the award is humbling, particularly because Heffron made the nomination on her own.
"Beyond thinking that I was a good enough advisor, she went to a lot of trouble to tell me that in a significant way, and that makes it really special to me," Todd said. "It's also awfully nice to be recognized by your peers."
In the 30-year history of the award, this is the first time an educator in Michigan has won.
"Cindy is a visionary art educator who understands that art teachers need to be artists themselves in order to understand the journey and destination of their students," said Kendall President David Rosen. "I believe that Kendall has one of the most impactful art education programs in the country, and I want our program to become an acknowledged world leader in art education. This award is an excellent first step in affirming that what we offer is both different and better."
As a unique part of Ferris State University, Kendall College of Art and Design prepares students for leadership in the visual arts, design, art history, and art education; provides innovative, collaborative education that fosters intellectual growth and individual creativity; and promotes the ethical and civic responsibilities of artists and designers, locally and globally. For more information, visit www.kcad.edu.