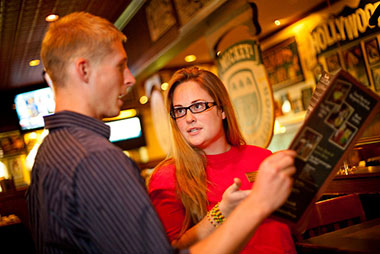 Fourteen students in the Hospitality Management Program at Ferris State University have been inducted into the Eta Sigma Delta Honor Society.
The prestigious international honor society, which recognizes hospitality management students for academic excellence, focuses on leading hospitality educators and professionals to the highest levels of proficiency and accomplishment in the industry.
To be considered for induction into the ESD Honor Society, students must have a 3.0 grade point average or higher and must be ranked in the top 20th percentile in their class.
The recent induction ceremony featured a keynote address by Brent Knight, president of Lansing Community College and a Ferris State University graduate, who challenged students to be fearless, adaptable and to persevere in their chosen profession. In attendance were several Hospitality Program Advisory Board members, Ferris administrators and guests.
The 2013 inductees are:
Michele Albright, graduate student, Tustin, Mich.
Anthony Beslile , junior, Ortonville, Mich.
Lauren Benear, junior, Stanwood, Mich.
Selena Brown, junior, Marshall, Mich.
Timothy Burke, junior, Marion, Mich.
Hannah Cregg, senior, Fremont, Mich.
Chelsea Desmond, junior, Waterford, Mich.
Kelly Gierman, senior, Blue Island, Ill.
Jennifer Hager, junior, Big Rapids, Mich.
Cory Hewens, senior, Harbor Beach, Mich.
Lisa Laurent, junior, Minneapolis, Minn.
Kimberly Outinen, senior, Lakeland, Mich.
Heather Perry, junior, Whitehall, Mich.
Katelyn Romzek, senior, Harbor Beach, Mich.


For more information on Ferris' Hospitality programs, visit: