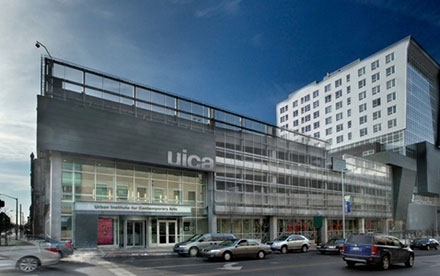 After 36 years, the Urban Institute for Contemporary Arts is merging with Kendall College of Art and Design of Ferris State University. As a result of the merger, UICA will become a wholly-owned subsidiary of the fast-growing art and design school. The change required fresh thinking by the UICA board, and an unprecedented show of support from the community and donors.
Despite its new $8 million home in the heart of Grand Rapids, UICA membership and attendance levels have not reached their potential, hindering the institute's efforts to become the regional art leader it is poised to be. With debts and monthly expenses outpacing its income, Michigan's largest contemporary arts center was on a path to closing its doors this fall.
Enter Kendall College of Art and Design, and a group of people who believe the UICA has important work left to do in west Michigan.
"The UICA sits at the heart of the city," noted Kendall President David Rosen. "That is appropriate because the heart of our community is its creativity. UICA provides a hub for all who thrive in the creative environment. Any city that wants to be great needs a UICA."
David Eisler, president of Ferris, recognized the value of UICA to Grand Rapids and the natural affinity between it and Ferris' prized art and design school. "We are delighted with the continued growth of our partnership efforts with UICA. This merger reflects the commitment of Ferris State University and Kendall College of Art and Design to the arts in West Michigan. The synergy of this new relationship will strengthen the contemporary arts in our region," said Eisler.
With the encouragement of Eisler, Kendall College of Art and Design took steps to lend UICA support by sponsoring projects and offering advice and expertise. "Our plan was simple: protect UICA from as many of their expenses as possible and help them gain momentum," said Rosen. "If UICA generates new funds, we will make sure they help UICA grow into the vibrant center it aspires to be."
Donors' extraordinary commitment to pay off debt on the new building and the response of the community to UICA's mission has made the merger possible.

"A broad range of donors brought UICA to its new building on Fulton. Now a steadfast group of key donors is bringing UICA to its next iteration with Kendall/Ferris," said Kate Pew Wolters, one of those key donors and a long-time supporter of UICA. "Significant donor partnerships and community collaborations in West Michigan have once again come together to keep and enhance leading edge arts and culture in the heart of the city. We would not be in this position today without the help of these donors and community-minded citizens."
The last piece for the renewal was naming the new executive director, Miranda Krajniak, formerly of the Saugatuck Center for the Arts. Kathryn Chaplow, chair of the UICA board, points to Krajniak's energy, skills and start-up mentality as the qualities needed to help UICA reclaim its role as a creative engine.
"UICA is part of a bigger picture, and Miranda understands and communicates that idea beautifully," said Kathryn Chaplow, chair of the UICA board. "Her strong vision, leadership and commitment impact the future of both the organization and the collective art and design community. She is unafraid of taking the risks that prompt difficult questions. This is the sort of leadership that a contemporary arts center like UICA must have. It's not about making everyone happy all the time. It is about exploration, pushing boundaries and stretching imaginations. The UICA will continue to engage its audience with a sense of curiosity and wonder, and that audience is growing. This is an incredibly exciting time."
Krajniak has hired a full-time curator, Kendall alumnus Alexander Paschka, to present art in a way that appeals to a wider audience. "We need to increase the variety and scope of work and how we talk about it," Krajniak said, "We don't want the public to feel art is beyond understanding." With five floors and multiple gallery spaces, the building has ample room for a range of subjects, styles and materials, and Krajniak plans to keep the mix rich and constantly evolving.
The UICA movie theater—the only one downtown—will also take on a bigger, more active role. "Films are our most competitive product, and we're going to be expanding the variety of what we screen to include classics and other community-friendly offerings," said Krajniak, who is also looking for ways to make UICA events more accessible. The annual Odd Ball fundraiser, Live Coverage event, and participation as an ArtPrize venue will continue, but more intimate events will be added to bring members, students, creative professionals and art lovers together for creativity, fun and conversation.
About UICA:
Located on the busiest intersection in Grand Rapids, the Urban Institute for Contemporary Arts initiates conversation with cutting-edge visual art, film, performance, literature, music, education programs and events. Partnering with regional, national, and international artists, the UICA offers innovative experiences with the latest art forms and the newest creative ideas – groundbreaking work that might not otherwise find a venue in Michigan.
About KCAD:
As a unique part of Ferris State University, Kendall College of Art and Design prepares students for leadership in the visual arts, design, art history, and art education; provides innovative, collaborative education that fosters intellectual growth and individual creativity; and promotes the ethical and civic responsibilities of artists and designers, locally and globally. For more information, please visit www.kcad.edu.