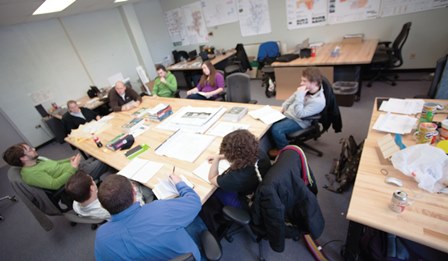 Ten senior Architecture and Sustainability program students crowd around several tables pushed together to form a common workspace in the center of a room in the Swan Building on Ferris State University's Big Rapids campus. Around the perimeter of the room are the telltale signs that the room is a place where real work gets done. There are charts and posters taped to the wall, empty soda cans and snack food wrappers, a white board covered with handwritten notes, a box of microwave popcorn and a moveable cart with a notebook computer attached to a very large flat-panel monitor.
Welcome to Ferris' Small Town Studio, a component of the Architecture and Sustainability program. Although the studio has been existence for less than a year, it has already produced a comprehensive, 132-page plan to upgrade the City of Big Rapids' bike and pedestrian trails, and is now working on plans to envision a new community center for the city.
Professor Paul Long said that working collaboratively to find innovative solutions is an essential part of students' experience.
"The key component of an architectural education is the studio and the informal learning that takes place. They're here well into the evening. The Small Town Studio is purposely set up for students to learn from each other," he said.
If there's a single word that most defines current thinking about the future, it's "sustainability." It doesn't take long, talking with these students, to discover their thinking about this concept is broader and deeper than most public discussion about what's "green." Senior Anthony Amato sums up points made by several studio members:
"Sustainability is not just building a green building. There's so much more it encompasses. The environment is a key component, is a big consideration, but so are the social aspect and the economic aspect. How those three are interrelated is what makes up sustainability. While it's important to look at a project environmentally, so is how it affects the economic and social makeup of the city."
"It's not as simple as following the LEED [Leadership in Energy and Environmental Design] checklist," adds program senior Rachel Weller. "The check box doesn't consider whether the bike racks are in a place where people can use them and access the front door. The bike racks are sometimes in the back of the building by the dumpster. Does that make it sustainable because you've added a bike rack that no one will use?"
That is the kind of holistic thinking that professor Dane Johnson envisioned when he helped establish the studio. He notes that the Architecture and Sustainability program, and subsequently the Small Town Studio, became a reality because they were crafted to provide significant community studies content.
"We felt this was a perfect complement to the architectural concept of sustainability – sustainability of communities and of place as a complement to the idea of making buildings that are sustainable, whether that be through using green technology or whether that be through concepts like historic preservation or adaptive reuse."
The importance of the Small Town Studio is that it gives students the opportunity to work on real-world problems. And that work extends beyond taking a problem, coming up with a solution, designing some plans and getting a grade. The STS is meant to take on jobs on behalf of outside clients. In the case of the bike and pedestrian master plan for Big Rapids, the students came up with the plan after meeting with city officials and conducting surveys of residents, and walking, bicycling and driving the town's paths and roads. Then, they presented their findings and proposals at a city council meeting in December.
"I don't always think people believe college students will put in the extra effort," said senior Katelin Post. "After our presentation, someone came up to us and said, 'I can't believe you did this all in two months! You're students; you probably have other classes.'"
The uninitiated tend to think of architecture in terms of the urban environment and celebrity architects – Frank Gehry's Bilbao Guggenheim Museum, for example, or I. M. Pei's glass-and-steel pyramid addition to the Louvre in Paris. However, many communities, not only major urban centers, also face architectural and urban planning challenges. Strip malls anchored by big box retailers can create a "centerless" small town, while declining property values can make innovative adaptive reuse of historic structures harder to realize. A quick survey of the places this group of Architectural Sustainability students call home – Mendon, Pigeon, Greenville, Cheboygan – shows that they have personal experience of the Small Town Studio's target constituency.
"A lot of students in our program come from small towns, want to go back and be small-town architects, which is terrific role to play in a community," said Johnson. "The University of Michigan and Lawrence Tech have urban studios in downtown Detroit, and there's a rural studio at Auburn. We wanted to create something in between those. So the notion that our students could not only go back to small towns and play a role as an architect, but potentially have roles as community leaders, helping to form public policy that would shape those communities, was an idea that really drove the Small Town Studio."
Ultimately, the vision is for the STS to be housed off-campus in downtown Big Rapids, a move that would help facilitate public exhibitions and discussions with a broader group of stakeholders.
"Our long-term plan is to invite applications from communities about projects they would like to see done," said Johnson. "We would typically ask them to commit some modest funding for materials, far less you would need to engage professional planning firm. There's excitement about working toward that end, but first we have to prove ourselves as a viable operation."
This first cohort of Architectural Sustainability students – who are also the first to go through the Small Town Studio experience – have done a lot to demonstrate that viability. After the students' bike and pedestrian path presentation, Big Rapids Mayor Mark Warba ordered copies of the presentation to be distributed to city departments and asked for feedback from department heads on how elements of the plan could be implemented. The city also placed a link to the plan on the homepage of its website. The students hope that the positive reception of their work will lead other clients to contact them about projects in the future.
"Try us," said senior Evan Weaver. "Nothing's too big or too small. We've done projects as small as designing a footbridge. Right now, the community center we're working on is a 50,000 to 60,000 square-foot building. The goal is to work on projects that bring communities together."