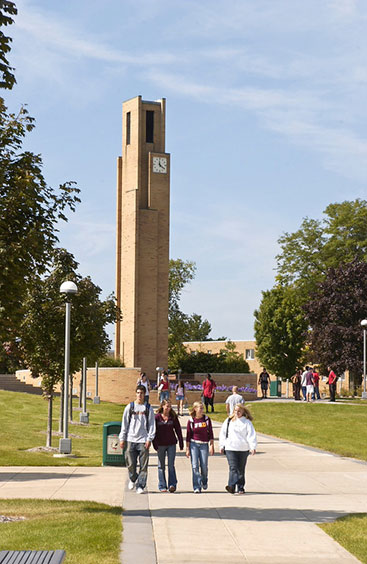 The future is elusive. In the modern era alone, there have been so many attempts to describe the future (in many cases, a future which is now the past,) that this collective vision of a time that never came to pass has its own name: Retro-futurism. However, many of the inventions we now take for granted – personal computers, manufacturing robots, cell phones – were postulated by writers and artists decades before those inventions were realized. So, understanding that predicting the future is art and not a science, what can we say about the future of academics? What qualities will institutions of higher education need to nurture to stay ahead of the academic curve? Given current technological, economic and demographic trends, the Ferris of the future must (continue to) be nimble, international, interdisciplinary, virtual and connected.
Nimble
When asked what qualities he thinks universities will need to be successful in the future, the first thing Ferris State University Provost and Vice President of Academic Affairs Fritz Erickson talks about is being nimble.
"Ferris is one of the most academically-nimble universities with which I've been involved. We see a need, and we look for a way to start a program to meet that need," he said.
Driving this need are rapidly changing technologies and the ways they are reshaping the job market. In the past four years, Ferris has launched a number of new programs, including bachelor's degrees in:
Computer Information Technology
Energy Systems Engineering
Graphic Media Management
Health Care Marketing
Molecular Diagnostics


Ferris also has reorganized several programs with the fastest-changing technologies into a new academic school. The School of Digital Media comprises three degree programs: Digital Animation and Game Design, Digital Media Software Engineering, and Television and Digital Media Production.
"Identifying ways to collaborate and offer more opportunities to students is what this is all about. Technology in these three areas is constantly changing and merging," said TDMP Department Chair Glen Okonoski, who also notes that the programs' grouping allows for collaboration between students in degrees that use similar technologies.
International
In 2008, when Ferris adopted its current vision statement, the university recognized that globalization was a cultural and economic phenomenon that would affect students' prospects in work and life for years to come. The statement said that Ferris will be "the recognized leader in integrative education, where theory meets practice throughout the curriculum, and where multi-disciplinary skills important in a global economy are developed. …"
Senior Danielle Voorhies exemplifies the kind of perspective Ferris' Globalization Initiative wants to foster. Among her many achievements, Voorhies was instrumental in bringing to campus speakers who discussed international issues, from the challenges of improving women's health and health systems in Ghana, to the experiences of Holocaust survivors, to the military rule of Chilean dictator Augusto Pinochet. (Read more about Danielle here.)
Ferris also has a very active Fulbright Scholars group. Twenty-six Ferris faculty members have taught and conducted research overseas thanks to the Fulbright Program. The most recent Ferris faculty members to have been awarded Fulbright grants are Business professor Bill Smith, who taught and conducted research in Sierra Leone in 2013; Languages and Literature professor Daniel Ding, who is headed to Hungary this fall; and professor Greg Gogolin, who teaches in Ferris' Master of Science in Information Security and Intelligence program, and is headed to Chile this fall. Voorhies is in South Korea on a student Fulbright Scholarship, as well.
Additionally, during the 2012-13academic year, Ferris had the largest number of international students in its history, with 362 enrolled for the Spring 2013 semester.
"Emerging economies are realizing the need for a well-trained workforce to sustain the growth trajectory that they are experiencing," said Piram Prakasam, director of Ferris' Office of International Education. "Institutions like Ferris with hands-on training and practical, valuable programs have become very attractive for students. Institutions in the United States are waking up to this huge opportunity to expand international operations. These developments are opportunities and challenges. Opportunities for institutions to grow are also challenges for students as they are now competing in a much wider labor market."
Interdisciplinary
When Eisler talks about the need to be interdisciplinary, he links it to two other qualities: innovation and entrepreneurialism.
"I think it's clear that we need to educate students who can be more entrepreneurial, who can be more creative and innovative," he said. "How can we provide experiences for students and give them some entrepreneurial experiences while they're in college, no matter what their discipline is? I think that's going to be very important, going forward."
One example of this type of interdisciplinary enhancement is in the study of Pharmacy, which has evolved from a pharmaceutical knowledge degree to one that involves complex communication skills, medical technology and electronic data system proficiencies, and business skills. To support Pharmacy students whose careers aspirations include management and health care finance, Ferris' Colleges of Pharmacy and Business have developed a joint Doctor of Pharmacy-Master of Business Administration program. The College of Business also offers various certificate programs for Pharmacy students interested in specific aspects of the business of health care and pharmacy.
Recognizing the need to facilitate interdisciplinary discussions, the university's Faculty Center for Teaching and Learning recently launched a series entitled "Interdisciplinary Innovations" to highlight the collaborative work faculty are doing to promote student learning and success. The inaugural presentation, "Crime and Climate Change: An Interdisciplinary Adventure," featured associate professor of Geography Jennifer Johnson and associate professor of Criminal Justice Mischelle Stone. In the Fall 2012 semester, Stone and Johnson conducted a project that paired criminal justice graduate students with weather and climate undergraduates for an investigation into the links between climate change and criminal behavior.
Virtual
Perhaps one of the biggest recent news stories in higher education innovation has been the development of Massively Open Online Courses by several major universities. MOOCs are exactly what their name suggests – online courses that are open to any and all who want to enroll. (Stanford has hosted MOOCs with more than 100,000 students.). Many MOOCS are free to enroll in but do not generate college credits. However, a recent Chronicle of Higher Educationarticle, "Twice As Many MOOCs," reports that Coursera, one of the largest companies to host MOOCs in coordination with universities, is "offering five classes that, if students successfully complete them, will lead to credit recommendations from the American Council on Education, which means some universities may grant credits for completing Coursera work.
To note that traditional online courses are still far more likely to result in a degree is also to point out that "traditional online" is no longer an oxymoron. At Ferris, the number of student credit hours delivered via the Internet has risen more than 36 percent in the last three years, from 9,676 hours to 13, 219 hours. These Internet SCHs now account for 7.8 percent of all credit hours delivered in the Fall 2012 semester.
"We have to continue to reinvent all the virtual experiences that are possible for students," Eisler said. "Can we extend a sense of place? Can we extend that beyond just the face-to-face, so students feel they're experiencing that online?"
One way Ferris creates that sense of place for students is through "blended" courses that combine in-person and online learning, such as in Ferris' Doctorate in Community College Leadership (visit here).
Connected
Besides the delivery of courses, the Internet has changed higher education in other ways. Ferris' Faculty Center for Teaching and Learning holds a series of lunchtime "Fireside Chats" on instructional technology topics. In addition to MOOCs, some of the topics covered during the Spring 2013 semester included:
TED: Ideas Worth Sharing," which highlighted the records library available at ted.com and how it could be integrated into Blackboard online learning resources.
Game-Based Learning," highlighting "literacy's transformation from a passive consumption of information to an active creation of content."
iPad Apps and iTunes U," exploring ways these resources can facilitate teaching and learning on mobile devices.


Another aspect of being connected is the growth in volunteerism on campus; even here, technology plays a role. Ferris' Volunteer Center reported that students put in 42,768 total community service hours during the 2011-12 academic year. OrgSync software helps students discover volunteer opportunities and track co-curricular activities online. Connection via OrgSync has allowed students to become more involved, gaining valuable experience and providing important services to the local community.
The more things change, the more they stay the same; Woodbridge N. Ferris founded Ferris State (as the Big Rapids Industrial School) in 1884 with the purpose of providing a practical but broadening education that adapted to the needs of students, industry and a society increasingly connected by technology. Perhaps the most compelling and exciting aspect of the factors shaping the campus of the future is their fundamental similarity to those that shaped the campus of the past, indicating that Ferris is uniquely prepared to help the next generations of students have rewarding, successful lives.