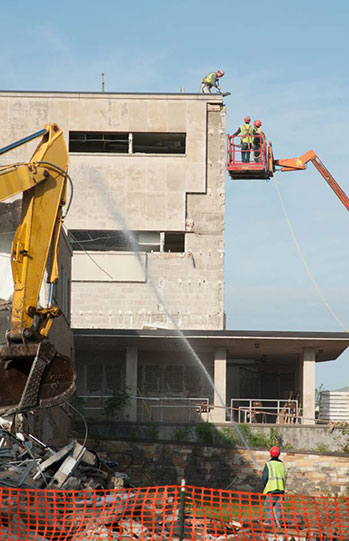 UPDATE (Jan. 4, 2021): There are no longer Carlisle or Masselink bricks available.
Ferris State University alumni who lived in Carlisle or Masselink residence halls can have a little piece of their first home away from home.
About 1,000 bricks were saved from each residence hall before their demolition earlier this summer as part of the university's $33.9 million University Center project. The Alumni Association is offering them free to interested alumni.
"Masselink and Carlisle halls were two of our earliest residence halls, and alumni who lived there and experienced Ferris can have a piece of those memories," said Jeremy Mishler, director of Alumni Relations and Advancement Operations.
There is no charge for the bricks, but they must be picked up on campus. The first opportunity will be at the Alumni Association Homecoming Welcome Tent from 10 a.m. to 2 p.m. Saturday, Oct. 5. No bricks will be shipped.
To reserve a brick, email Mary Kay MacIver at [email protected] or call (231) 591-2345. Please include which hall you are requesting a brick from.
Carlisle and Masselink halls were demolished as part of the University Center project to create additional parking. The project includes renovation of the Rankin Student Center into a modern, future-oriented University Center to better meet the needs of students, faculty, staff and the community. It is slated for completion by December 2014.
A camera installed on the roof of the Swan Building provides a live feed of work on the project. For more information, visit here.