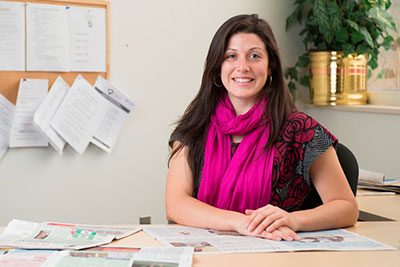 Ferris State University student Alex Wittman is "incredibly excited" about the opportunity to serve as editor-in-chief of the Torch and is ready to lead the student newspaper's staff in its quest to better serve readers.
Wittman, a Political Science major from St. Joseph, has worked at the Torch for three years and currently is the weekly publication's news editor. She also has served as sports editor and as a sports writer.
"Alex is one of the strongest true journalists that I have had the privilege of working with in my five years at Ferris," said Steven Fox, the Torch adviser and an assistant professor of English and Journalism in Ferris' College of Arts, Sciences and Education. "She has a real sense for news and understands how to deliver important information to readers."
The role is one Wittman has coveted since she started at Ferris.
"The editor-in-chief position is one I've aspired to since I joined the staff as a freshman, and I hope to continue what has been established as a legacy of excellence" at the award-winning newspaper, she said.
Wittman's goals include expansion of the Torch's online presence and development of more in-depth stories for its print product that inform and engage readers.
She also is prepared to handle the newspaper's uncertain financial future. A consulting team will visit campus to evaluate its current situation and recommend possible changes for a new business plan to put the Torch on solid ground, she said.
"I am ready to embrace whatever challenges the Torch may face," Wittman said.
The Torch is not immune to the struggles currently faced by the newspaper industry, but Wittman and Fox both are optimistic its staff will rise to the occasion.
"One of the pillars of the industry is strong and accurate reporting. Alex understands that these things are as important as ever if newspapers are going to continue to be important in our society," Fox said. "While the internet may have changed many things in terms of how information is delivered, the value of the information is still as strong as ever."
Fox said he is unsure what changes the consulting team may recommend, but that Torch staffers will be a big part of directing any change.
"Alex has been involved in conversations about how to get the student newspaper on solid founding this year and will continue to be an active part of the long-term solution," he said. "I'm excited to watch her take over the leadership role and watch how the paper grows next year.
"University students everywhere need a voice looking out for them," Fox continued. "The Torch is that voice for Ferris students, and it is needed today as much as ever. Alex is the perfect person to help lead this important student organization."
Wittman will be backed by a 30-member team that includes editors, reporters, photographers and a production crew. Editors for the 2013-14 year are:


News Editor: Sean Chipman, Journalism/Technical Communication, Darian, Ill.


A&E Editor: Tyler Hanan, Music Industry Management, Midland


Sports Editor: Harrison Watt, Journalism/Sports Communication, Bloomfield Hills


Photo Editor: Eric Trandel, Graphic Media Management, Arlington Heights, Ill.


Copy Editor: Olivia Adams, Public Relations, Big Rapids



Wittman, who will work as an intern this summer at the Pioneer in Big Rapids, hopes to land a writing position with a newspaper, magazine or online news source after she graduates in Spring 2014.
During her time at Ferris, Wittman has received numerous academic honors, including the Dean's List, Honors College and Dean's Scholarship. She also is a member of the Bulldogs' softball team and in Spring 2012 was named to the All-GLIAC Academic Team and received the President's Award for the highest GPA among student-athletes.
Wittman also has received writing accolades during her tenure at the Torch from the Associated College Press and Michigan Press Association, as well as the John F. McNamara Award for Outstanding Contribution to the Torch, also last spring.