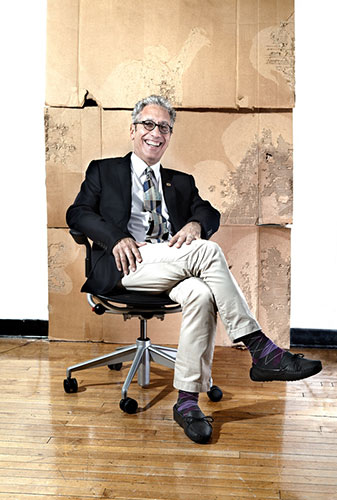 GRAND RAPIDS – David Rosen, president of Ferris State University's Kendall College of Art and Design, has been elected to the Board of Directors of ArtServe Michigan, the state's leading statewide nonprofit arts and cultural advocacy organization.
"I was honored to be asked to join the board, because I saw the excellent work ArtServe has been doing to demonstrate the importance of the arts and to advocate for and support their place in Michigan's education, economy and culture," Rosen said. "As we enter a phase in the life of the region, state and nation, where our population's creativity will be required for economic advancement and personal completion, an organization such as ArtServe is best able to tell the stories and cultivate resources to allow us all to prosper. My job and Kendall's job is to support that work that is so essential for us all."
Members elected to the ArtServe board are active in public policy, business, cultural organizations, civic affairs, higher education, the legal profession and nonprofit work, and serve three-year terms. The board, which meets quarterly, works collaboratively to guide the organization in its statewide efforts to advocate, connect and support the creative community as a contributing force to Michigan's revitalization.
"David's passion and knowledge on creative economy and arts education issues, the role the arts plays as a significant contributor to Michigan's success and how business and creativity converge to build opportunity for entrepreneurship and talent attraction align perfectly with the mission of ArtServe," said Jennifer Goulet, president and CEO of ArtServe Michigan. "His expertise and experience will be an asset to our continued work cultivating the creative potential of our state."
Rosen, who joined Kendall as president in 2012, is continuing the momentum established by his predecessor Oliver Evans in growing enrollment while working to establish Kendall as a trailblazer for its innovative new programs, including Collaborative Design, Medical Illustration and Fashion Studies; raising awareness of its award-winning fine art and design programs; and working to build new master's degree programs..
Prior to coming to Kendall, Rosen served as senior vice president and vice president for Academic Affairs at Woodbury University in Burbank, Calif., which has been nationally recognized for its innovation, creativity and forward-thinking leadership in education. He also served more than two decades at the University of Maine at Machias.
Rosen, a Maine native, earned his doctorate and master's degrees from Johns Hopkins University in Baltimore, Md., and his bachelor's degree from Haverford College in Haverford, Pa. He has directed various academic and small theater productions and founded the Maine Youth Summer Theater Institute and Burbank Summer Theater Institute. He also is a published author and songwriter.
As a unique part of Ferris State University, Kendall College of Art and Design prepares students for leadership in the visual arts, design, art history, and art education; provides innovative, collaborative education that fosters intellectual growth and individual creativity; and promotes the ethical and civic responsibilities of artists and designers, locally and globally. Information about Kendall College of Art and Design.