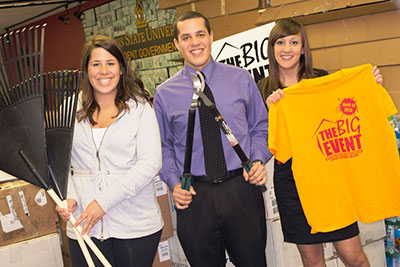 VIDEO: The Big Event is Saturday, April 20
Ferris State University's largest student-run volunteer project, The Big Event, has been rescheduled for Saturday, April 20.
Inclement weather forced cancellation of students' "thank you" event for the community originally planned for April 13. Organizers hoped to recruit about 2,000 volunteers to perform small service projects at 300 homes.
"Our main concern now is attendance," said Byron Williams, president of Student Government, the registered student organization that plans the annual philanthropic event. "We have been calling the main contacts and will have an updated list of volunteers later this week."
Students who were not pre-registered or unable to participate on the original date can still sign up by calling the Student Government office at (231) 591-2611 or show up the morning of the event.
"Having another week allows us more time to plan and get things going," Williams said. "The Big Event is something that is high in demand within the community. Everyone works so hard to put it on."
Sponsors of The Big Event include the College of Business, University Advancement and Marketing, Grounds and Maintenance, Bernie's Donuts, Physical Plant, Student Affairs, Meijer, Yoplait, Ice Mountain, the Diversity and Inclusion Office, and Biggby Coffee.