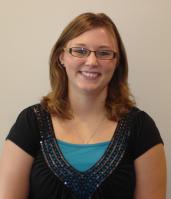 Ferris State University has awarded Krystal Michels of Milnor, N.D., the Vision Service Plan Scholarship.
Michels is a member of the Michigan Optometry Student Private Practice, Fellowship of Christian Optometrists Student Volunteer Optometric Services for Humanity and the American Academy of Optometry.
"I enjoy being involved in both the school and community," Michels said.
The scholarship is awarded to two students based on their demonstrated excellence in clinical care and academics. Candidates must also show a commitment to entering private practice as well as having demonstrated leadership skills.
"I became interested in optometry when I was in high school because of the phenomenal optometrist I had. He gave me encouraging words and lots of positive feedback about the profession and for that I will always be grateful. When I was in college I shadowed an optometrist in Bemidji. She very much confirmed my decision to be an optometrist," Michels said.
Michels, the daughter of Blair and Lynne Michels from Milnor, N.D., completed her undergraduate studies for a degree in Biology at Bemidji State University in Bemidji, Minn.
Recipients are chosen by the MCO faculty through the Scholarship and Award Committee.
To learn more about the Michigan College of Optometry, visit https://ferris.edu/mco/.