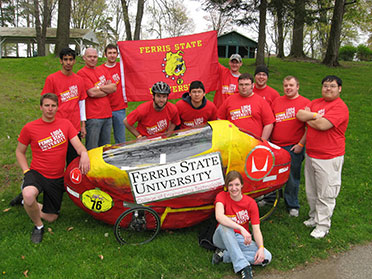 Nearly 300 students on 32 teams representing universities in 20 states and Canada will compete in the American Society of Mechanical Engineers' Human Powered Vehicle Challenge Friday, April 26 through Sunday, April 28 at Ferris State University.
Ferris is hosting the eastern region of the international competition, which challenges engineering students to design and build efficient human-powered vehicles. Events will include a safety inspection, speed race, innovation showcase and a drag race at various locations on campus and in Big Rapids.
The competition begins Friday at Trinity Fellowship Church where ASME officials will examine the safety and design of each vehicle. The vehicles will be on display for the public to view from noon to 4 p.m.
On Saturday, teams will gather at Roben-Hood Airport north of Big Rapids to compete in both men's and women's drag races from 8 a.m. to noon. At 4 p.m., teams will meet individually with the judges to show off their vehicle's design features.
The competition will wrap up Sunday with a 2.5-hour endurance race around campus that begins at 8:30 a.m. at Top Taggart Field.
This year marks the fourth time Ferris has participated in the competition. The 12 Ferris team members began creating design ideas and raising funds as soon as school began last fall. Building started in January.
All events are free and open to the public.