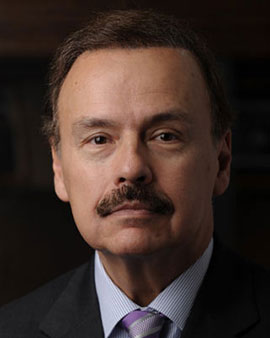 Jimmy Gurulé, a Fulbright Scholar and professor of law at the University of Notre Dame in South Bend, Ind., will discuss "The Legal Response by Chile to International Crimes Committed During the Military Rule of Augusto Pinochet" at 3 p.m. Wednesday, April 3 at Ferris State University.
Gurulé, who was a Fulbright Scholarship recipient to Diego Portales University in Santiago, Chile, is a well-known expert in the field of international criminal law, including terrorism, terrorist financing and anti-money laundering.
Gurulé is the final guest speaker in the World Conflict Resolution Series, a collaborative effort between the FSUbuntu registered student organization and Ferris' Center for Global Studies and Engagement. FSUbuntu recently received $2,000 in funding support from the Public Education for Peacebuilding Support initiative of the United States Institute of Peace.
The USIP award will be used to cover travel expenses, and matching support from the Center for Global Studies and Engagement will be used to pay for accommodations, per diem and program promotion.
The free event is open to the public and will be held at Interdisciplinary Resource Center Room 120. For additional information, go to, here.