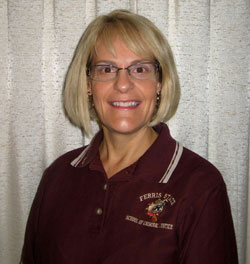 Ferris State University has opened the Office of Graduate Studies to help promote and centralize graduate degree programs offered by the university.
Open houses are planned to show off the office, housed in Interdisciplinary Resource Center Room 119, from 10:30 a.m. to 1:30 p.m. Tuesday, April 23 for administration, faculty and staff, and from 10:30 a.m. to 1:30 p.m. Thursday, April 25 for all prospective graduate students.
"The immediate goals of the office are to establish a graduate-level presence at Ferris," said Nancy Hogan, Graduate Education coordinator. "We want to centralize the processes and procedures for graduate education while providing administrative services to graduate programs. We also want to ensure high-quality program development and nurture the graduate identity for students."
The office, created by Academic Affairs, is open from 9 a.m. to 2 p.m. Monday through Thursday.
"Those who attend will have the opportunity to meet the staff, find out about the services that will be provided, learn about graduate education and have any questions they may have answered," Hogan said.