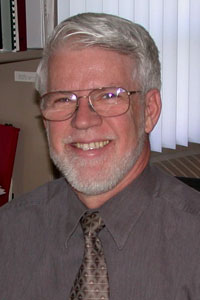 Donald Flickinger is serving as interim vice president for Student Affairs at Ferris State University following the retirement of Daniel Burcham.
Flickinger, who most recently served as associate provost for Academic Operations at Ferris from 2007 to 2012 before retiring, has 25 years of service to the university to his credit. Prior to taking the associate provost position, he served as head of the Humanities department in the College of Arts, Sciences and Education from 1997 to 2006, and was bands and orchestra director at Ferris from 1985 to 1997. He was band director for Big Rapids Public Schools from 1971 to 1985.
Flickinger takes the leadership role in the Student Affairs division from Burcham, who retired effective March 31 after serving more than 40 years at Ferris in a range of capacities, including Developmental Education department head, associate dean of the College of Arts, Sciences and Education, dean of Enrollment Services and acting provost.
The Student Affairs division contributes to Ferris' mission of preparing students for leadership and involvement in an increasingly diverse, technologically sophisticated and complex global society through a broad range of programs, activities, professional development and leadership opportunities.
The university intends to initiate a search this spring with a goal to have a new vice president for Student Affairs in place by Jan. 1, 2014.