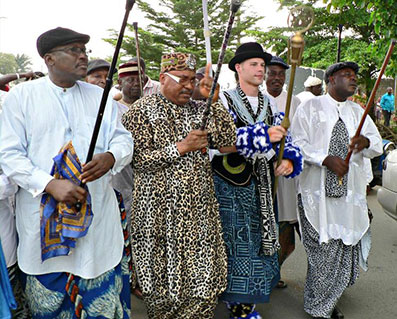 Ferris State University will host a presentation by Fulbright Scholar Jordan Fenton titled "Initiation, Secret Societies and Masquerade in Nigeria" at 5 p.m. Thursday, April 11 in Room 120 of the Interdisciplinary Resource Center.
Fenton, an assistant professor of Art History at Ferris' Kendall College of Art and Design, will discuss his Fulbright-Hays fieldwork and research on the African tradition of masquerades in Calabar, Nigeria.
"Those who attend will be able to hear many things they haven't heard before," said Danielle Voorhies, a programming assistant in the Office of International. "Even for those who know of or may have visited Africa, being initiated into a group or adopted as a son is a unique story to be heard."
Fenton spent 15 months in Calabar, where he researched the art, rituals and performances of six masquerade societies and also was initiated into each, adopted as a son by a local king, conferred with the rank of chief and honored with lengthy apprenticeships into an imaged and performed esoteric knowledge system.
"As an assistant professor at Kendall and a Fulbright Scholar, our office wanted to welcome him to Big Rapids and introduce him to the students and community here," Voorhies said. "We have many Nigerian students (studying at Ferris) this semester, and I think even for them Jordan's story will be a very unique one to hear."
The presentation is free and open to the public. It is sponsored by the Ferris' Center for Global Studies and Engagement.
For more information, visit the university's events calendar: ferris.edu/calendar