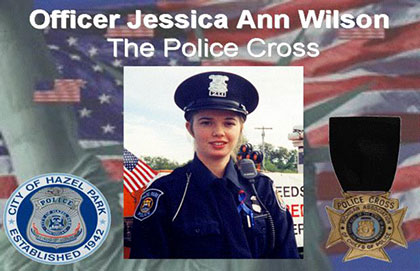 Ferris State University's chapter of the Lambda Alpha Epsilon professional criminal justice fraternity will host the Fallen Officer Memorial 5K on Saturday, April 20 at Hemlock Park in Big Rapids. The run, which honors those who have fallen in the line of duty, will benefit the Jessica Nagle-Wilson Memorial Scholarship, the organization's philanthropy.
Nagle-Wilson was a 2000 graduate of Ferris' Criminal Justice program who was killed in 2002 while working as a Hazel Park police officer. The scholarship in her name is awarded annually to a Criminal Justice student.
"Through this event, we are honoring her as well as other officers who bravely lost their lives while protecting others," said Shannon Fick, philanthropy chair of LAE. "Participants will have a chance to write down the name of an officer they are running the race for if they'd like. At the start of the race, we will read those names and recognize those who have fallen in the line of duty with a moment of silence."
Proceeds up to $1,000 will go directly to the scholarship fund. Fifty percent of any remaining proceeds also will go into the fund while the other half will go to Lambda Alpha Epsilon.
There is a 16-and-younger division, as well as divisions for ages 17 to 25 and 26 and older. Prizes and medals will be awarded to the top three finishers. Those not interested in running can walk the 5K, set to begin at 10:10 a.m.
For additional information on the Fallen Officer Memorial 5K, email Fick at [email protected].