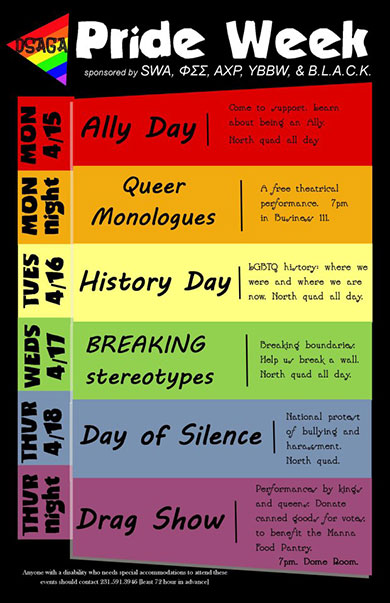 A history lesson, theatrical performance and a drag show are among the events planned from Monday, April 15 through Thursday, April 18 to mark Pride Week at Ferris State University.
"The Diverse Sexuality and Gender Alliance hosts Pride Week, because we stand by one of Ferris' core values: Diversity," said Kendree Berg, a senior majoring in Psychology and president of D-SAGA, a student organization on campus. "We want to educate students about minority groups."
Here is a schedule of Pride Week events:
Monday, April 15
10 a.m. to 4 p.m., North Quad – Ally Day, an opportunity for students to learn how to be an ally to the lesbian, gay, bisexual, transgender/transsexual, queer/questioning.
7 p.m., College of Business Room 111 – "Queer Monologues," a free theatrical performance.
Tuesday, April 16
10 a.m. to 4 p.m., North Quad – LGBTQ History Day, a history lesson shared by D-SAGA.
Wednesday, April 17
10 a.m.to 4 p.m., North Quad – Break the Stereotypes, an opportunity to physically break down a wall.
Thursday, April 17
10 a.m.to 4 p.m., North Quad – Day of Silence, a nationally recognized protest to honor the lives lost to discrimination.
7 p.m., Rankin Student Center Dome Room – FSU Drag Off, a drag competition for students that also features professional drag performers. Attendees can vote on the best performer by donating a canned good to benefit the Manna Food Pantry.


"I am looking forward to the Drag Off," Berg said. "It is a really entertaining event, and we have professional drag performers coming from Muskegon and Grand Rapids."
All events are free and open to the public.