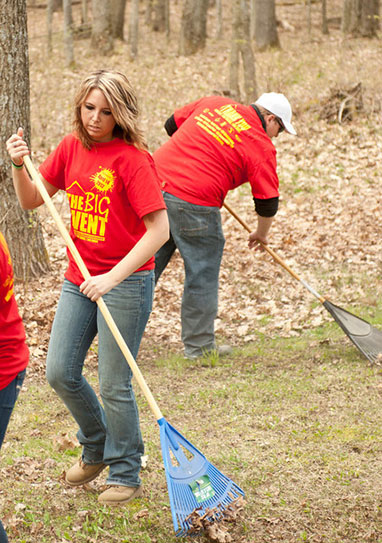 Ferris State University students will thank the Big Rapids community by participating in The Big Event on Saturday, April 13.
"I love this event, because I've seen it evolve into such a great opportunity for individuals to be selfless and see how they are a part of a larger community," said Byron Williams, president of Student Government.
Organizers hope to recruit about 2,000 Ferris students to perform small service projects at 300 homes during the university's largest student-run volunteer project.
Opening ceremonies for the event begin at 9 a.m. at Top Taggart Field. Participants will receive a free breakfast provided by Student Government and hear from Ferris President David Eisler and Big Rapids Mayor Mark Warba. The ceremony also will include a cannon launch by Ferris ROTC and a performance of the national anthem.
"Students are then encouraged to check in to get their tools and T-shirts," said Williams, who has participated in The Big Event the past three years. "They'll get to the houses around 10 a.m. and begin their work. When they're finished, they come back to Top Taggart Field to return the tools and have lunch provided by Ferris Dining Services."
Sponsors include the College of Business, University Advancement and Marketing, Grounds and Maintenance, Bernie's Donuts, Physical Plant, Student Affairs, Meijer, Yoplait, Ice Mountain, the Diversity and Inclusion Office, and Biggby Coffee.