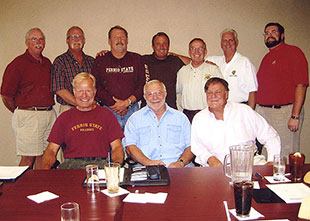 Ferris State University alumnus and former Bulldog football quarterback Alan Beamer will be a featured speaker on the Big Rapids campus, Wednesday, Apr. 3. The topic of his presentation is "Living and Dying to Play: The Joys and Tragedies of a Life-Long Sports Career."
The event takes place in College of Business Room 111 and begins at 6 p.m. Beamer plans to share stories of his life as a student-athlete, coach and ultimately as a victim of brain damage suffered as a result of multiple concussions he endured playing football. The concussions have affected his vision.
Mariah Kennedy, a senior in the Journalism Technical Communication program, is coordinating the event. Said Kennedy, "Alan's inspirational story would be beneficial to any student who is driven to play or work in the field of sports."
Beamer, the latest to participate in the annual Sports Speaker Series, played quarterback for the 1968 undefeated Ferris football team. He later coached at Big Rapids High School.
The presentation is free and open to the public. It is co-sponsored by the Sports Careers and Ferris State Public Relations registered student organizations.
For more information contact Sandy Alspach at (231) 591-2779.


CAPTION: The 40th anniversary reunion committee for the undefeated 1968 Bulldog football team is pictured here several years back): Front Row (Left to Right): Ron Harke, Dr. Kurt Barrett, Mike Zayti. Back Row (Left to Right): Gary Elford, Al Beamer, Larry Marfechuk, Skip Harbin, Coach Bob Leach, Roger Elford, FSU Alumni Director Jeremy Mishler. Not Pictured: Corey Bouyer, Jack Spencer, FSU Asst. Athletics Communications Director Rob Bentley.