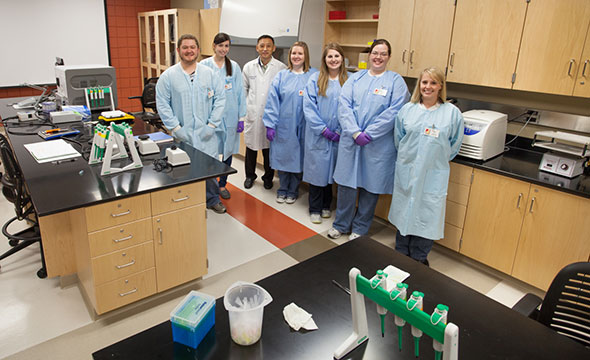 Ferris State University will graduate the first students in its new Molecular Diagnostics program next year. The senior Bachelor of Science degree candidates, who are taking their final classes in this new laboratory in Grand Rapids, are, from left: Adam Placer of DeWitt; Michelle Mallon of Port Huron; faculty member Joe Wang; Kelly Weatherly of Wolverine Lake; Emily Fris of Shelby; Erica Schmidt of Grand Rapids; and Heidi Baas of Bitely.
Ferris State University's first molecular diagnostics scientists will graduate next year as part of the university's effort to meet industry demands for specialized training in the growing field of laboratory medicine.
The seniors enrolled in the new Bachelor of Science degree program spent three years completing prequalification and professional sequence courses on Ferris' Big Rapids campus and are taking their final classes in a newly-constructed laboratory in Grand Rapids. The students will graduate upon completion of a clinical internship next summer.
The lab is housed in the Applied Technology Center at Grand Rapids Community College, right in the heart of the city's Medical Mile, which includes the Spectrum Health complex and Van Andel Research Institute. Grand Rapids also is home to a number of biotechnology companies, making it the ideal place to base Ferris' Molecular Diagnostics program, said coordinator Jonathan Karnes.
"Grand Rapids has a burgeoning medical and biotechnology community that continues to grow every year," Karnes said. "Our students will get the benefit of being able to tour the facilities of these institutions, attend conferences and lectures, and get to know and network with the people working in the Grand Rapids medical and biotech community. Many of these institutions have already expressed interest in Ferris's program and the skill set in molecular science that our students will graduate with."
The Molecular Diagnostics major, offered through the university's College of Health Professions, was created in 2009. Ferris' Board of Trustees approved spending $1.4 million to renovate about 3,200-square-feet of space in the ATC for the laboratory and equipment. It opened this fall to accommodate the first cohort of students.
The laboratory includes a multi-room space with room-pressure regulatory control in accordance with standard molecular diagnostic laboratory practice, Karnes said. It is broken up into three areas:
A main laboratory space that includes both a biological safety hood and a chemical fume hood for working with infectious material and volatile chemicals, respectively. This space also houses a state of the art RT-PCR instrument, the Roche 480 Light Cycler, many centrifuges, balances and other instruments used daily for molecular diagnostics work. It also contains an instructor's podium with a document camera, PC and two projectors with screens on either end of the room to allow students a clear view of any material being presented.


A cold storage and autoclave room that contains a Steris autoclave, a -80degree Celsius freezer and a large glass-door laboratory refrigerator designed for storage of lab material at 4 degrees Celsius and for running cold experiments. In addition, the room houses a molecular grade water system from Millipore that provides 99.99-percent pure sterile water and a laboratory dish washer designed to use a specialized detergent that leaves glassware free of pH-altering soap residues.


An instrument and imaging room containing polymerase chain reaction (PCR) instruments, ultraviolet gel imaging system and an epifluorescent microscope.


"This room is a very important component of any molecular diagnostic laboratory as it allows us to separate the potentially contaminating PCR products from the PCR setup area in the main lab," Karnes said. "It is also window-free and allows us to achieve the semi-darkness needed for fluorescent imaging on our epifluorescent microscope."
Ferris' investment in the technology and laboratory space will give students exposure to instrumentation they will find in the most advanced molecular diagnostics laboratories in the country, said Greg Zimmerman, head of Ferris' Clinical Laboratory Sciences, Respiratory Care and Health Administration programs.
"The exposure and experience with these instruments gives our students an advantage from the moment someone looks at their resume," Zimmerman said. "And, as we continue to grow and integrate with the developing medical and biotechnology community in Grand Rapids, our students will gain exposure to the day-to-day activities, language and structure of the career they have chosen."
Students learn how to use molecular techniques and diagnostics to detect genetic disorders, infectious diseases, cancer and predisposition to disease, to screen patients before organ transplants and even to determine therapy for genetic disorders.
Graduates will be prepared to work in clinical molecular diagnostics laboratories, industry laboratories that serve that community, clinical research laboratories and criminal forensics laboratories.
"We have noted interest from many laboratories in this area, including Spectrum's Molecular Diagnostics Lab, Sequenom's Center for Molecular Medicine, the Van Andel Institute and many biotech companies in the West Michigan area," Karnes said. "Opportunities are growing nationally across many settings."
The program's first cohort contains six students, and there are 18 juniors in the second cohort, bringing the program total to 24.
"We are looking forward to receiving applications from the third cohort of students starting in January," said Karnes, who serves as a faculty member along with Dr. Joe Wang. Wang is the program's clinical coordinator as well. "At full capacity, we hope to attract 32 new students every January during the application period for a total of 64 in the program at one time."
Ferris is seeking accreditation through the National Accrediting Agency for Clinical Laboratory Sciences to provide assurance to prospective students and employers that the program meets professional standards.
"Ferris has a long tradition of educating students with the skills and knowledge they will need to find meaningful careers upon leaving college. The Molecular Diagnostics program follows closely in this tradition by recognizing the growing need for clinical molecular scientists in the molecular diagnostics and hospital laboratory community," Karnes said. "By utilizing the expertise of practicing molecular diagnostics scientists in the design of our curriculum, we have identified a meaningful skill and knowledge set which will give our students a competitive edge in the job market."