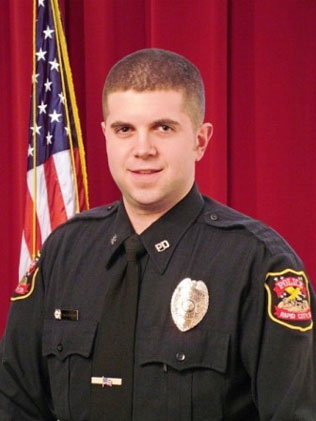 An event to raise funds for a scholarship honoring fallen officer and Ferris State University graduate James Ryan McCandless is set for Wednesday, Nov. 14 at Buffalo Wild Wings in Big Rapids.
The new scholarship endowment for students in Ferris' Criminal Justice program honors the 2005 graduate and South Dakota police officer killed in the line of duty in August 2011. McCandless, a Midland native, was 28.
Twenty percent of purchases made at the restaurant, located at 1264 W. Perry St., will be donated to the scholarship fund.
McCandless' parents, James and Kathy, created the Ryan McCandless Memorial Endowed Scholarship with the help of family and friends. The scholarship is awarded to one or more full-time sophomore, junior or senior students who maintain a 3.0 GPA.
For more information about the scholarship or to make a contribution, contact The Ferris Foundation at (231) 591-2365, [email protected] or visit